"Lady With a Microscope," Prof. Winona Welch '23, Breaks Barrier in Assuming Presidency of Indiana Academy of Science
October 24, 1948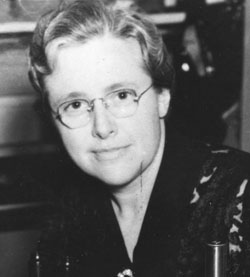 October 24, 1948, Greencastle, Ind. - "Women may be the illogical sentimentalists some men consider them, but the Indiana Academy of Science, an august assemblage of the most profound thinkers in Hoosierdom, is inclined to believe otherwise," notes an article in today's Indianapolis Star magazine. "The Academy of Science is a predominantly masculine organization. Nevertheless, when its some 1,000 members meet Thursday at Bloomington for a three-day round of highly technical discourse on almost every subject under the sun, a woman, Dr. Winona Welch, a DePauw University botany professor, will occupy the president's rostrum."
The magazine's Al G. McCord continues, "In the estimation of feminists, at least, this will mark the apex of the progress of science in Indiana. For Hoosier scientists have been meeting every year since 1885 and this will be the first time that the president's gavel has been in the hands of a woman."
A 1923 graduate of DePauw, Winona Welch also received an M.S. in botany from the University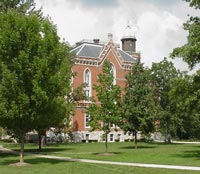 of Illinois and Ph.D. from Indiana University. An assiduous researcher and plant collector, most of her work concentrates on the water mosses fontinalaceae.
The article, entitled "Lady With a Microscope," adds, "Dr. Welch's ascent to the presidency was anything but sudden. For years, she submitted treatises to the organization's journal, and she was Academy secretary for seven terms. For research she has done in addition to her teaching at DePauw... Dr. Welch has gained far-spread recognition. Among American botanists she is a leader. Her studies and collections of water moss and liverworts have won her worldwide fame in the highly specialized field of bryology."
Read more about Professor Welch in DePauw: A Pictorial History, accessible online by clicking here.
Back