DePauw Prepares to Welcome 554 Attendees to Council on Undergraduate Research National Conference
June 20, 2006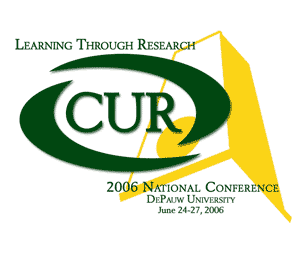 June 20, 2006, Greencastle, Ind. - More than 550 people will visit the DePauw University campus this weekend to participate in the 2006 national conference of the Council on Undergraduate Research (CUR). More than 100 workshops will be presented over the four-day event, which begins Saturday, June 24, and concludes Tuesday the 27th. Visitors will start arriving Thursday for pre-conference business meetings.
"It's a terrific platform for DePauw," says Bridget L. Gourley, professor of chemistry and biochemistry at DePauw and the conference's host site chair. "Many attendees will be making their first visit to Greencastle, and I'm confident they'll leave with very firm and positive impressions of our campus, facilities and the quality of faculty-student research that is taking place in this liberal arts college setting."
More than 100 DePauw students work on collaborative research projects in the summers, including research by first-year students in a Science Research Fellows
program.
The conference, "Learning through Research: Dynamic Faculty, Students, and Institutions," will bring together faculty, administrators, policy makers, representatives of funding agencies and other stakeholders with an interest in doing and promoting undergraduate research.
Online information is available by clicking here, and the conference program is available as a PDF file here. Read more about the conference in this previous story.
Back