Former Iran Hostage Col. David Roeder '61 Featured in New Book & Upcoming TV Documentary
June 22, 2006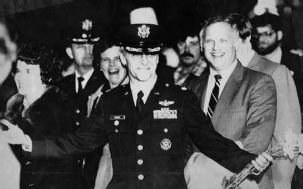 June 22, 2006, Greencastle, Ind. - Col. David M. Roeder, a decorated Air Force veteran and 1961 graduate of DePauw University, was one of the 52 Americans who spent 444 days in captivity in Iran from 1979-81. "He didn't know the motivations of some of his captors. He didn't know the specifics of the ordeals of his fellow hostages. Reading Mark Bowden's recently published Guests of the Ayatollah helped him fill in many of those blanks," reports today's Milwaukee Journal Sentinel. (photo shows Col. Roeder at a White House ceremony shortly after his return from Iran)
"A graduate of Whitefish Bay High School and DePauw University, Roeder enlisted in the Air Force in 1961 and, by '65, was flying some of the first B-52 missions over Vietnam," the newspaper's Joanne Weintraub notes. "After a distinguished career as a pilot, he moved on to command and administration. On Oct. 27, 1979, he reported for duty as the assistant Air Force attaché to the Islamic Republic of Iran. Just eight days later, he became one of the hostages."
At the time of his kidnapping, David Roeder's wife -- Suzanne Ardery Roeder '61 -- and two children were living in Virginia. "Early in interrogation sessions, his captors informed him, to Roeder's horrified astonishment, that they knew not only his family's names, but the number of the bus his son took to school every day -- and that they would not hesitate to use him as a pawn. But despite such threats, and despite being kicked, beaten and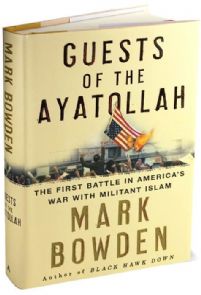 placed repeatedly in solitary confinement -- 69 days was the longest stretch -- Roeder gave his captors little beyond his name and rank. Certainly, he said, he was not going to support their claims that he and his fellow hostages were spies.
"I'm a very aggressive individual," Col. Roeder tells the Journal Sentinel. "I like to win. The hostage situation actually turned into a very personal battle between me and everybody who tried to make my life miserable."
Besides being prominently featured in Bowden's book, Roeder also appears in a four-hour documentary, also titled Guests of the Ayatollah, "that will premiere next week on the Discovery Times Channel, available on digital cable and satellite, with a one-hour 'sneak peek' Saturday on basic cable's Discovery Channel," Weintraub points out.
Access the complete column at the newspaper's Web site.
Back