DePauw records best finish ever in Directors' Cup standings; featured in USA Today article
June 22, 2006
NACDA Release | USA Today Feature
June 22, 2006, Greencastle, Ind. - DePauw's athletic programs posted one of the best year's in school history and that was reflected with the University's 13th place showing in the U.S. Sports Academy Directors' Cup Division III standings.
The finish was the best in school history with the previous high coming in 2002 at 14th and was 14 spots better than last year's 27th place ranking.
"We're thrilled to have had such an oustanding year and it's a direct result of having quality coaches and student-athletes and a very supportive administration," DePauw Director of Athletics and men's soccer coach Page Cotton said.
DePauw teams earned NCAA Division III postseason appearances in seven sports, while individuals competed in four others. The Tigers' women's golf team placed third for the fourth straight year, while the women's basketball and men's and women's tennis teams advanced to the national quarterfinals. The men's cross country team finished 16th, while the women's soccer team advanced to the second round and the men's basketball team bowed out in the first round. Individuals helped the Tigers to a tie for 29th in women's swimming and diving and a tie for 44th in women's indoor track and field. Developed as a joint effort between USA TODAY and the National Association of Collegiate Directors of Athletics (NACDA), the U.S. Sports Academy Directors' Cup program is the only all-sports competition that recognizes the institution in NCAA and NAIA play with the best overall athletics program.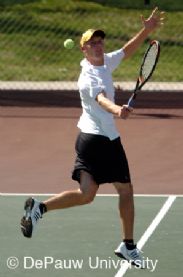 The prestigious award is presented annually by the National Association of Collegiate Directors of Athletics (NACDA), United States Sports Academy and
USA TODAY
to the best overall collegiate athletics programs in the country. The 2005-06 U.S. Sports Academy Directors' Cup winners were announced at NACDA's 41st Annual Convention in New Orleans, Louisiana, and the four winning institutions (Stanford in Division I, Grand Valley State in Division II, Williams in Division III and Azusa Pacific in NAIA) were awarded with their U.S. Sports Academy Directors' Cups. In each of the 11-year history of the award, DePauw has finished higher than any other Indiana Division III institution. In April, DePauw captured the
Southern Collegiate Athletic Conference's President's Trophy
by winning 10 conference championships and finishing second in six others.
Back