Palestinian Crisis is Straining UN Relief Agency Headed by Karen Koning AbuZayd '63
June 24, 2006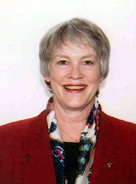 June 24, 2006, Greencastle, Ind. - "Commissioner General of the United Nations Relief and Works Agency for Palestine Refugees in the Near East (UNRWA) Karen Koning AbuZayd urged the international community... to restore aid to the Palestinians," begins a story in the People's Daily of China. "During a meeting held in the Jordanian capital Amman [Monday], AbuZayd said that the deepening financial crisis on the Palestinian territories had increased the financial burden on the UN relief agency." AbuZayd is a 1963 graduate of DePauw University.
"The difficult situation in the Palestinian lands and the Israeli sealing have increased the financial burden on UNRWA, particularly when UNRWA begins receiving aid requests from Palestinians who have been unable to receive their salaries," AbuZayd is quoted.
The article continues, "In addition, Abu Zayd said that the UN agency was facing grave financial challenges, with the budget deficit hitting 100 million U.S. dollars. 'UNRWA's financial difficulties will affect the level of service it can provide to the Palestinian refugees,' she warned."
Read the complete text by clicking here.
Back