New Faculty Member, Grammy Winner Jay White, to be Featured in Wednesday Evening Concert
June 26, 2006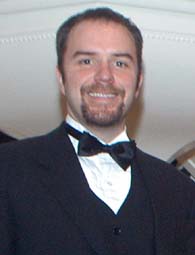 June 26, 2006, Greencastle, Ind. - Grammy Award-winner Jay White, an internationally known countertenor and newly appointed DePauw University School of Music faculty member, will be among the featured artists Wednesday in a program of Italian Baroque music. The concert, presented by the Greencastle Summer Chamber Music Festival, will also include performances by Indiana University harpsichord professor Elisabeth Wright, and former DePauw faculty member Allison Guest Edberg. The program begins at 7:30 p.m. in Gobin Memorial United Methodist Church. No tickets are required; the suggested donation is $5.
White will sing two cantatas by the Italian Baroque composer Giovanni Bononcini. The program will also include instrumental works by Tarquino Merula, as well as solo harpsichord and violin and harpsichord works recently performed by Wright and Allison Edberg in San Diego. Wednesday's program will also feature Martha Perry, baroque violin.
"Once again, we are fortunate to have world-class artists appear this summer in Greencastle," says festival artistic director Eric Edberg, who will perform on cello Wednesday evening. "This is a
wonderful opportunity to hear music of the Baroque period (1600-1750) performed by some of the country's top performers."
A countertenor, Edberg explains, "is a male singer who sings in the range of an alto or mezzo soprano. Jay White is one of the finest countertenors in the world. Elizabeth Wright is world-renowned as a harpsichordist, and Allison Edberg is in demand as a Baroque violinist all over the country. This concert is a rare opportunity to hear musicians of this caliber in such an intimate setting as the Gobin sanctuary."
Reviewers have hailed Jay White as "a countertenor of rare tone," "most impressive," and having "a voice with a full measure of passion." He has performed with members of America's finest Early Music ensembles including the Smithsonian Players, Tafelmusik and the Seattle and Philharmonia Baroque Orchestras and graced some of the world's most prestigious stages including Cleveland's Severance Hall, London's Globe Theatre and Wigmore Hall and Taipei's (Taiwan)
National Theatre. White has performed in the Berkeley, Bloomington and Washington, D.C. Early Music Festivals as well as the Maryland, American and Halle (Germany) Handel Festivals. Mr. White sang eight seasons with the internationally acclaimed ensemble, Chanticleer with whom he traveled to over 40 states and 15 foreign countries. His discography includes Chanticleer's Grammy® Award-winning recordings, Colors of Love and Tavener: Lamentations & Praises, and recordings on the Angel/EMI, Focus, New Albion, Lammas and Teldec labels. Jay White joins the DePauw School of Music faculty this fall.
Support for the Greencastle Summer Chamber Music series has come from the DePauw School of Music, Walden Inn, Fine Print Books (which is underwriting this week's concert), and York Chrysler/Jeep/Dodge of Greencastle.
Back