President Rosser Quoted in Christian Science Monitor
March 20, 1985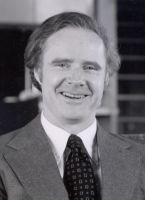 March 20, 1985, Greencastle, Ind. - "In the wake of recent critical reports, many colleges are putting fresh emphasis on basic courses and strengthened liberal arts offerings," begins a story in today's Christian Science Monitor. "But some educators and college presidents quizzed by the Monitor at the American Association for Higher Education meeting in Chicago this week say they are concerned that the rush to new requirements could shift attention away from the all-important question of whether or not students are learning."
The article by Lucia Mouat continues, "Richard Rosser, president of DePauw University in Greencastle, Ind., noted: 'We're getting students today who have almost no knowledge of the Bible, who've never heard of the Federalist papers, and who've never read any Shakespeare.' But like most college presidents these days, Mr. Rosser is not blaming the high schools. He and many of his colleagues pin direct responsibility on their own relaxation of course requirements in the 1960s and '70s and the proliferation of specialized and trendy courses."
Later, Mouat notes that "most college leaders also insist that changed requirements -- or even shifts in course content -- may not make the
crucial difference in producing a 'broadly educated' student. 'There really is no agreement across the country on what's meant by that,' says DePauw president Rosser."
Read the complete text at the newspaper's Web site.
Source: Christian Science Monitor
Back