Vice President Richard M. Nixon Receives Honorary Degree from DePauw
May 11, 1957
May 11, 1957, Greencastle, Ind. - Richard Milhous Nixon, vice president of the United States, was today awarded an honorary Doctor of Laws degree by DePauw University at a special convocation. Nixon is on campus as the keynote speaker of the annual Conference on Business and Industry.
Vice President Nixon was introduced by Indiana Governor Harold W. Handley, and the citation was read by Dean Robert Farber '35. The conferring of the degree was conducted by DePauw President Russell J. Humbert and Glenn W. Thompson, president of DePauw's Board of Trustees.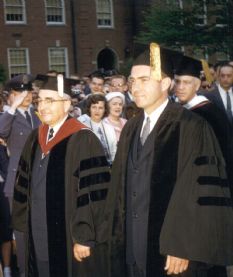 The program also included an invocation from Bishop Richard C. Raines, Indiana area, Methodist Church; music by the DePauw University Band, conducted by Dan Hanna '47, and the DePauw University Choir, directed by George W. Gove; and the singing of America, the Beautiful.
"Accompanied by Mrs. Nixon, (the vice president) was joined on the speakers' platform by the governor and lieutenant governor of Indiana, Senator Homer E. Capehart, and Congressman Winfield K. Denton [DePauw '19] and Mrs. Cecil Harden," notes the book DePauw Through the Years of Nixon's speech at the conference.
The Indianapolis Star summary of the address is headlined, "Nixon Tells DePauw Audience Victory in Struggle with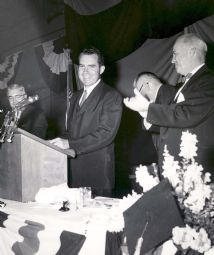 Russia is Certain." The newspaper includes two photos of Vice President Nixon arriving at Weir Cook Municipal Airport in Indianapolis. In one of the images, taken in front of an Air Force plane, Nixon is surrounded by President Humbert, Senator Capehart, Governor Handley, Lieutenant Governor Crawford F. Parker, Congressman Charles B. Brownson, and Eugene C. Pulliam, publisher of the Indianapolis Star and News and 1910 graduate of DePauw University.

[Download Audio: "Vice President Richard Nixon" - 343kb] "We hear a lot of dire predictions about what's going to happen in the world these days," Nixon told his DePauw audience. "The Soviet Union is immensely strong, the free nations are having
their difficulties, and I think sometimes there's too much pessimism as to the eventual outcome. Oh, I wouldn't underestimate for one moment the serious world danger that we confront. But I would not want to leave this college campus today without expressing a faith as to the future and the eventual outcome of this tremendous conflict of ideas in the world. There isn't any question about the outcome," the vice president continued.
"We are going to win. And we're going to win fundamentally because we're on the right side," Nixon asserted.
Back