Phil Eskew Jr. '63 Elected to Indiana University Board of Trustees
June 30, 2006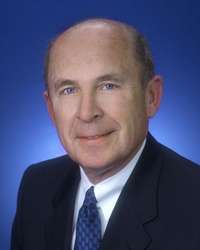 June 30, 2006, Greencastle, Ind. - Philip N. Eskew Jr., director of physician and patient relations at St. Vincent Indianapolis Hospital in Indianapolis and 1963 graduate of DePauw University, has been elected by alumni of Indiana University to a three-year term as IU trustee. In results of voting announced today, Eskew received 9,209 of the 31,650 votes cast through mailed ballots. He replaces Cora Smith Breckenridge, who was first elected to the board in 1997 and served three terms.
An announcement from IU notes, that Eskew "earned a B.A. in 1963 from DePauw University and a M.D. in 1970 from the IU School of Medicine... He has served the university in several capacities. He is a clinical professor in the department of obstetrics and gynecology at the IU School of Medicine and a life member of the IU Alumni Association. Eskew also has served as national vice president of the American College of Obstetricians and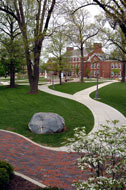 Gynecologists; past president of the Carmel Rotary Club; the prematurity medical chair of the March of Dimes; vice president of the Indiana Basketball Hall of Fame; and colonel in the Indiana Guard Reserve." A member of DePauw's Athletic Hall of Fame, Dr. Eskew also serves as president of DePauw's alumni "D" Association.
Read more by clicking here.
Phil Eskew's volunteerism was noted in a February Indianapolis Star column. You'll find details in this previous story.
Back