Retiring School Superintendent David Casey '65 Profiled in Newspaper
July 3, 2006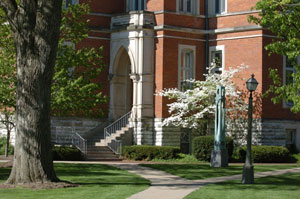 July 3, 2006, Greencastle, Ind. - "Fifty different varieties of hostas await David Casey, as the man with the green thumb looks forward to planting flowers, tomatoes, broccoli and asparagus behind his home," begins a story in Indiana's South Bend Tribune on the Michigan educator. "After serving as Buchanan Community Schools' superintendent for 13 years, he is finally ready for the shade." Casey, a 1965 graduate of DePauw University is "the one who helped build up the district at a time of economic decline and financial challenges."
YaShekia Smalls writes, "Casey just wanted to be an accountant. As a junior in high school, he considered attending a two-year business school after graduation, but his counselor encouraged him to pursue a four-year school instead. That's when he decided to take more math and foreign language courses. He soon became editor of the high school yearbook. And everything changed. While taking pictures one day, he met the Cadet Teachers. 'They would go over during study hall and help elementary teachers at the school next door to the high school,' Casey said. 'They talked me into joining their
club while I was taking their picture.' Casey enjoyed grading papers and helping younger children while working with his former sixth-grade teacher, Dera Peters. It sure beat accounting."
The article notes that Casey studied at DePauw and includes testimonials from peers such as Tracey Jaggi, an 8th grade teacher at Buchanan and a niece of Dave Casey. "Dave was very much about bringing quality, professionalism and respect to the district," she tells the newspaper.
Read the complete text by clicking here.
Back