"Map Master" Judson Green '74 in Chicago Sun-Times
July 6, 2006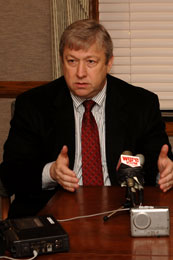 July 6, 2006, Greencastle, Ind. - "We want to enable the driver to get there quicker, but safer, too," says Judson Green, president and CEO of NAVTEQ Corporation and 1974 graduate of DePauw University. Green is quoted in a Chicago Sun-Times article that reports, "NAVTEQ is in the early stages of developing the first real-time traffic information to be delivered through XM, Sirius and the CBS radio station network. The company recently announced a new feature called 'Camera Alert,' which will enable drivers to avoid road spots that have cameras that might inhibit their need for speed."
NAVTEQ is a leading provider of comprehensive digital map information for automotive navigation systems, mobile navigation devices, Internet-based mapping applications, and government and business solutions. NAVTEQ creates the digital maps and map content that power navigation and location-based services solutions around the world.

"There are hundreds of digital mapping companies out there, but we provide the best quality data collection consistency," Green tells the newspaper. "Our customers know that Poland or Indonesia will be mapped just the same as Illinois."
Read the complete story, "On the road with the map masters," at the Sun-Times' Web site.
Judson Green and NAVTEQ were featured on the May 29 NBC Nightly News. Learn more in this previous story.
In October 2005, DePauw University announced that a $15 million dollar lead gift by Judson Green and his wife, Joyce Taglauer Green '75, will allow for a $29 million expansion and renovation of DePauw's 32-year-old Performing Arts Center (architect's rendering seen at left). The building, home to the School of Music and department of communication, will be known as the Judson and Joyce Green Center for the Performing Arts. Work is under way, and should be completed by the Fall of 2007. Learn more about the project in this previous story. You can see time lapse video of the construction project (updated regularly) by clicking here.
Back