Five from DePauw Contribute to The Impact of Tablet PCs and Pen-based Technology on Education
July 22, 2006

July 22, 2006, Greencastle, Ind. - Dave A. Berque, professor of computer science, is one of the editors of The Impact of Tablet PCs and Pen-based Technology on Education: Vignettes, Evaluations, and Future Directions. The book, published by Purdue University Press, includes contributions from four other current DePauw faculty members and one former professor at the University.
The new book's 23 chapters include:
"Pushing Forty (Courses per Semester): Pen-Computing and DyKnow Tools at DePauw University," by Dr. Berque.
"From 'Chalk and Talk' to Animate and Collaborate: DyKnow-Mite Applications of Pen-Based Instruction in Economics," by Mary Dixon, professor of economics and management; Kerry Pannell, associate professor of management and economics; and Michele Villinski, assistant professor of management and economics.
"Using DyKnow Vision Software and Pen-Enabled Computers to Increase Class Participation," by Scott Thede, associate professor of computer science.
"Use of Handwriting Input in Writing Instruction for Japanese Language," by Reiko Itoh, former assistant professor of modern languages.
The Impact of Tablet PCs and Pen-based Technology on Education is a result of the First Workshop on the Impact of Pen-based Technology on Education, which was held at Purdue April 6-7. Professor Berque co-chaired the conference with Robert H. Reed of Hewlett Packard, and shared program chair duties with Jane C. Prey of Microsoft Research. The three are editors of the book.
You'll find more information at Amazon.com, and read more in this previous article.
Dave Berque's work at DePauw led to the development of pen-based technology that is now being used in classrooms around the country. The system, which is manufactured and marketed by DyKnow, recently received a United States patent, which lists Berque as the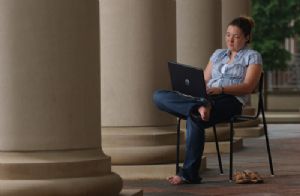 inventor.
DePauw is among the "Top 50 Most Unwired College Campuses," according to a survey of all institutions of higher learning -- big and small -- sponsored by Intel Corporation. DePauw is ranked #30 -- the highest of any liberal arts college in America -- in the report, which appeared in the October 17, 2005 edition of U.S. News & World Report. More than 1,000 campuses were included; only 50 made the final list. Survey findings are based on the percentage of campus that is covered by wireless technology, the number of undergraduate students and the computer to student ratio for each school.
Back