"Great Visionary" Jan Risi '81 Featured in Miami Herald
July 10, 2006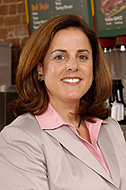 July 10, 2006, Greencastle, Ind. - "When Jan Risi looks at a food product in the grocery store, she's fascinated by the process that went into getting it there," begins a story in today's Miami Herald. "It's that curiosity that pointed her toward a career in agribusiness after graduating from DePauw University in 1981 with a double major in English and business." The article, headlined "She's the strongest link in the supply chain," documents her rise to president and CEO of the Independent Purchasing Cooperative, a company that serves more than 14,000 Subway restaurant franchises all over the world.
Elaine Walker writes that, after graduating from DePauw, Risi took a job with Ralston Purina as a commodities buyer, starting at the Chicago Board of Trade but then was transferred to a feed mill in Fort Worth, Texas. "Risi's office was in the plant where they manufactured feed for everything from cattle and pigs to horses and rats.
Her job -- buying all the key feed ingredients, like soybeans, molasses and milo. 'I was thigh high in milo fields in West Texas doing business with cowboys,' Risi said. 'They were the friendliest, nicest farm people. It was the greatest training in the world. It gave me a fabulous ability to understand vertical integration.'"
Risi has also worked for Chef America, Jack in the Box, and launched Burger King's co-op. She modestly tells the newspaper that secret to success is that she hires people "smarter than me." Walker notes, "Employees appreciate that Risi makes a point to get to know them and their families personally ... When it comes to new employees, Risi has been known to take them out to dinner and introduce them to people in the community. An annual traditionis her holiday party where she honors the children of every employee for their accomplishments and presents them with gifts that she shops for herself.
Risi explains,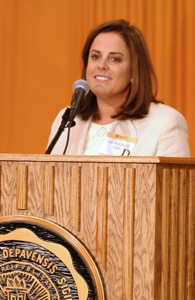 "When parents are putting this much time into a company, if their kids were home screwing up, they couldn't do it. This is a way of letting them know that they're also part of this company's success. Part of my success has been because of my husband's support and the fact that my kid gets it."
George Labelle, IPC's chief information officer, asserts, "She's a great visionary and a great leader. She really allows her people to do what they do best."
Read the complete profile at the newspaper's Web site.
Janet Risi Field delivered the address on behalf of the Class of 1981 at last month's Alumni Reunion Celebration at DePauw. A story detailing the event -- including a video clip and MP3 file of her speech -- can be found by clicking here.
Back