Cartwright named DePauw assistant football coach
July 10, 2006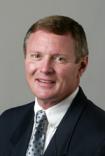 July 10, 2006, Greencastle, Ind. - Kit Cartwright, a 30-year veteran of the collegiate coaching ranks, has joined the DePauw University football staff as an offensive coordinator and offensive line coach.
"We're very excited that Kit has joined the staff," head coach Matt Walker said. "We are fortunate to bring in a coach with the level of experience he has."
The 1976 Bowling Green State University graduate has coached at 11 different universities including four in the Big Ten and has served as an offensive coordinator at three Division I schools.
Most recently, Cartwright served as head coach at Butler University from 2002 through 2005 after four years as the Bulldogs' offensive coordinator.
Cartwright began his coaching career as a graduate assistant at the University of Toledo before moving on to the defensive coordinator position at Ohio Wesleyan. He then served as an assistant coach at Penn State, Bowling Green and Purdue before being named the offensive coordinator at Eastern Illinois in 1987.
He then served as an assistant coach at Colorado State before joining the Ball State staff as its offensive coordinator in 1993. Following a two-year stint as an assistant at the University of Michigan, Cartwright was the passing game coordinator at Indiana University prior to going to Butler.
Cartwright has helped seven different teams to postseason bowl games. He was on the Penn State staff for the 1979 Sugar Bowl and with Bowling Green for the 1982 California Bowl. In 1984, he helped Purdue to the Peach Bowl, and then assisted at Colorado State for the 1991 Freedom Bowl. He was with Ball State at the 1993 Las Vegas Bowl, helped Michigan to the 1994 Holiday Bowl, and was with the Wolverines at the 1995 Alamo Bowl.
He further helped develop five all-American performers and several players who went on to earn a spot in the NFL, including New England Patriots quarterback Tom Brady and Brian Griese of the Chicago Bears.
A native of Toledo, Ohio, Cartwright was a three-sport athlete at Rogers High School. He attended Bowling Green as a walk-on defensive back on the football team under coach Don Nehlen, who later served as head coach at West Virginia. Cartwright earned a bachelor's degree from Bowling Green in 1976, and he received a master's degree from Toledo in 1982.
DePauw is coming off a 7-2 season including a Southern Collegiate Athletic Conference co-championship. The Tigers open the 2006 season September 9 when they host Anderson University at Blackstock Stadium.

Back