Bestselling Author of Tuesdays with Morrie, Mitch Albom, to Present Ubben Lecture November 13
July 20, 2006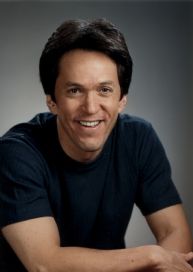 July 20, 2006, Greencastle, Ind. - Mitch Albom, author of the bestselling books Tuesdays with Morrie and The Five People You Meet in Heaven, will come to the campus of DePauw University on Monday, November 13 to discuss his latest work, For One More Day. Presented by the Timothy and Sharon Ubben Lecture Series, Albom's speech will begin at 7:30 p.m. in the Performing Arts Center's Kresge Auditorium. Like all Ubben Lectures, the event is free and open to the public (see a complete list of past Ubben Lecturers by clicking here).
The DePauw speech will be Mitch Albom's first in Indiana in conjunction with For One More Day, which will be released by Hyperion on September 26. The author will appear October 13 at an Indianapolis signing event and reading hosted by Big Hat Books; his DePauw appearance will be a lecture. For One More Day will be available for sale in the lobby of Kresge Auditorium and Albom will take time to sign books that are purchased at the Ubben Lecture (or DePauw Bookstore if a receipt is presented) at the conclusion of his talk.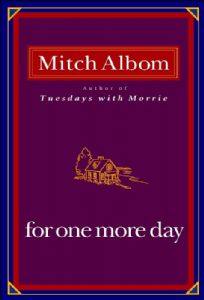 Mitch Albom's books are touchstones for people of all ages, reminding us of what truly matters in life. Called "a gift to mankind" by the Philadelphia Inquirer and "a wonderful book, a story of the heart told by a writer with soul" by the Los Angeles Times, Tuesdays with Morrie is Albom's touching memoir of his visits to his dying professor, Morrie Schwartz, and the life lessons learned along the way. Filled with humor and hope, what began as a way for Albom to help Morrie pay his medical bills became an international phenomenon with nearly 10 million copies sold. Translated into more than 30 languages, Tuesdays with Morrie was on the New York Times' national bestseller list for more than four years and is now the bestselling memoir of all time.
"People come up after my lectures and show me photos and say, 'This is my Morrie,'" says Albom. "It really demonstrates the power of a simple relationship and the lessons we learn from our older teachers about how to create a meaningful life."
In September 2003 Albom released his first novel, The Five People You Meet in Heaven, which debuted at #1 on the New York Times bestseller list and sold nearly five million copies in its first year.
Sharing his thoughts on loyalty, sacrifice and the importance of acknowledging others, Albom's Five People is a magical tale of a seemingly ordinary man who dies and discovers, in heaven, how he touched the lives of so many.
In his new novel, For One More Day, Albom explores the themes of family, divorce and regrets, and the wish that we could have one more day with a lost loved one.
Oprah Winfrey made Tuesdays with Morrie into an Emmy Award-winning film starring Jack Lemmon and Hank Azaria. Albom co-wrote the stage adaptation of the book, which opened off-Broadway in late 2002. In 2004 he wrote the screenplay for The Five People You Meet in Heaven, which was adapted into an ABC movie starring Jon Voight and Ellen Burstyn.
A columnist for the Detroit Free Press, Mitch Albom has been named America's best sports columnist 13 times in the last 15 years. He also hosts two radio shows that originate in Detroit on WJR-AM and reach 38 states.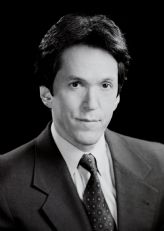 Albom has founded three charities in the Detroit area: The Dream Fund, helping disadvantaged children to become involved with the arts; A Time To Help, which brings volunteers together to tackle community projects; and S.A.Y. Detroit, which benefits the homeless. Albom also serves on numerous charitable boards around the country.
The Ubben Lecture Series has brought distinguished individuals to the DePauw University campus since 1986, including recent visitors Mikhail Gorbachev, Wal-Mart Effect author Charles Fishman, and feminist Naomi Wolf. Other Ubben Lecturers have included former British Prime Minister John Major, Spike Lee, former Israeli Prime Minister Shimon Peres, Bob Woodward, Ambassador
Paul Bremer, Mike Krzyzewski, Jesse Jackson, 2004 presidential candidate and retired General Wesley Clark (seen in photo at left), Hotel Rwanda's Paul Rusesabagina, Peyton Manning, Benazir Bhutto, General Colin Powell, Fast Food Nation author Eric Schlosser, Ross Perot, Harry Belafonte, Barbara Bush, and ice cream entrepreneurs Ben & Jerry.
To view a complete list of Ubben Lecturers, which includes links to video clips and news stories, click here.
Back