Senior's Portrayal of Cinderella in Into the Woods Noted in Honolulu Newspaper
July 14, 2006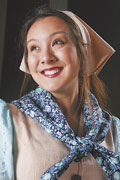 July 14, 2006, Greencastle, Ind. - Elizabeth Hartnett "is home for the summer, but returns to DePauw University in Indiana, where she expects to earn her bachelor's degree in vocal performance," notes Hawaii's Honolulu Advertiser. "A soprano, she's torn between musical theater and opera."
Hartnett, a DePauw senior, portrays Cinderella in Diamond Head Theatre's production of Stephen Sondheim's Into the Woods, which premieres tonight. She and the other performers are featured in a newspaper story published today.
"Elizabeth Hartnett recalls dressing up as Cinderella for Halloween when she was about 3," writes Wayne Harada. Hartnett tells the paper, "In those days, my mom had to make the costume, not buy it (it's now a Disney Store staple), and I had tiny glass slippers, a tiara and feather boa." Harada continues, "In Into the Woods, she plays the cinder-smeared princess, and has discovered that this
version of the small-kid-time heroine 'has a lot more layers. Going to the ball and deciding what she wants ... it's not all that easy. Cinderella has more depth than being a shallow goody-two-shoes.'"
Access the complete article by clicking here.
A soprano, Elizabeth Hartnett was among the winners of the 2006 DePauw School of Music Concerto Competition. Learn more in this previous story.
Back