Prof. Jeff McCall '76 Analyzes Moves of Brokaw, Rather and Koppel to Cable TV in Christian Science Monitor
July 17, 2006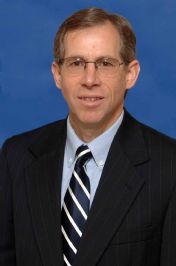 July 17, 2006, Greencastle, Ind. - "The audiences for the Discovery Channel newscasts will be modest next to broadcast network ratings, says DePauw University communications professor Jeff McCall," notes today's Christian Science Monitor. An article examines the recent moves by former network news anchors Ted Koppel and Tom Brokaw to Discovery Channel and Dan Rather's signing with HDNet. "But 'the reporting work to be done by Koppel and Brokaw will get notice beyond the Discovery viewers,' (McCall) says, adding that other media will rush to cover the conclusions reached by the big-name newsmen in their new jobs. 'We're seeing that already with Brokaw's program on global warming.'"
The story by the Monitor's Gloria Goodale continues, "Rather's future impact is less clear, say media observers. His new perch is much smaller, and the circumstances surrounding his departure from CBS may raise issues about his credibility. But, says Mr. McCall, he will certainly draw the spotlight, not necessarily for
the issues he's covering. 'His startup at HDNet will surely get some media attention,' says the media maven, 'but more as a curiosity than for whatever Rather is reporting about.'"
Read the entire text, headlined "Cable's siren call proves irresistible for three newsmen," at the newspaper's Web site.
Jeffrey M. McCall, professor of communication at DePauw, is a 1976 graduate of the University and is regularly quoted in stories on media matters. Read Dr. McCall's recent op-ed on "canned" news here, and his thoughts on a plan by television's Trading Spouses to highlight professors in a future episode, which was covered by Inside Higher Ed.
Source: Christian Science Monitor
Back