Prof. Carl Huffman Makes Presentation at International Symposium in Mexico
July 3, 2006
July 3, 2006, Greencastle, Ind. - Carl A. Huffman, professor of classical studies at DePauw University, was among those invited to make presentations at the Second International Symposium on Heraclitus, which took place in Mexico City, June 26-30. The event took place at the National Autonomous University of Mexico. Scholars presenting papers at the symposium came from Great Britain, Canada, Mexico, Spain, Italy, France, Israel, Lithuania, Greece and Hungary as well as the United States.
Heraclitus was an early Greek philosopher from the city of Ephesus, who lived in the late sixth and early fifth century BC. Dr. Huffman's paper examined Heraclitus' criticism of another early Greek philosopher, Pythagoras.
"The paper is about Fragment 129 of the book of the early Greek philosopher Heraclitus, who was active around 500 BC," Huffman explains. "In that Fragment Heraclitus attacks another early Greek philosopher, the famous Pythagoras, who was his older contemporary. Since Pythagoras wrote nothing, we only know of his ideas from the reports of others and this Fragment of Heraclitus is one of our earliest
testimonies to what Pythagoras' thought was like."
The professor continues, "Most people think of Pythagoras as a scientist and mathematician, but the best recent scholarship suggests that he was neither of these and was most of all an expert on the fate of the soul after death and religious ritual. Heraclitus says that Pythagoras 'engaged in historia more than all men.' The focus of my paper is what is meant by the word historia. It is, in fact, the origin of the English word 'history.' Some scholars have argued that, at the time of Heraclitus, it meant "scientific research," and have thus used Heraclitus as evidence that Pythagoras was engaged in scientific and mathematical research. My paper examines the early use of the term historia and shows that while it refers to active inquiry, usually by asking questions of others, it does not usually refer to scientific research and can include inquiry into myths and religious practices. Thus, this important early reference to Pythagoras by Heraclitus does not show that Pythagoras was a scientist or mathematician, and Heraclitus' use of historia in describing Pythagoras is consistent with the other early evidence, which suggests that Pythagoras was primarily an expert on religious ritual and the founder of a way of life."
DePauw is creating the Janet Prindle Institute for Ethics, which will open in the Fall of 2007 in the University's 510-acre Nature Park. On the issue of ethics, Huffman notes, "it is interesting to note that my paper is part of the argument to show that Pythagoras was in fact much more important for the history of ethics -- as the first person to found a fully articulated ethical way of life -- than the history of mathematics and science."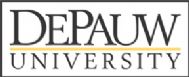 Visit the conference's Web site by clicking here and here. Access Dr. Huffman's paper here.
This spring, Cambridge University Press published a paperback edition of Carl Huffman's Philolaus of Croton. The publisher calls the book "the first comprehensive study for nearly 200 years of what remains of the writings of the Presocratic philosopher Philolaus of Croton (470-390 B.C.)." Learn more in this previous story.
Back