Bill Hayes '47 of TV's Days of Our Lives Reflects on DePauw and Life as an Entertainer in Memoir
July 24, 2006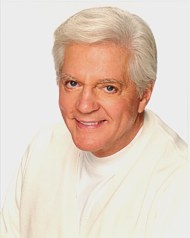 July 24, 2006, Greencastle, Ind. - "My freshman year at DePauw was all flux and transition," Bill Hayes, longtime star of daytime television's Days of Our Lives and 1947 DePauw University graduate, writes in Like Sands Through the Hourglass. A memoir, the book was co-authored by Hayes' wife and Lives co-star, Susan Seaforth Hayes. Bill Hayes came to DePauw as a freshman in the Fall of 1941. "As time wore on all the men either enlisted or got drafted into the service," he writes. "The music of the serenades changed drastically as families and couples were being torn apart by war.
A double major in music and English and a Rector Scholar at the University, Hayes himself enlisted in the Navy and served three years, returning to DePauw after the war to complete his studies. He writes of his many DePauw friends and memories, noting, "My Lambda Chi Alpha pledge class was outstanding. Out of a dozen, three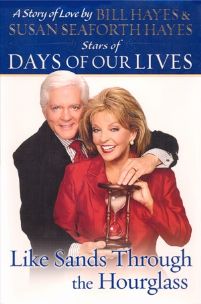 became doctors, one an attorney, two became nationally syndicated cartoonists, and one a very successful political writer in Washington. They were high-quality people who taught me courtesy, generosity, how to study, how to be responsible, and the meaning of true brotherhood."
After graduating from DePauw, Bill Hayes was an original regular on Your Show of Shows, the pioneering TV variety show. His resume includes numerous Broadway productions and his version of The Ballad of Davy Crockett was America's #1 record in March and April of 1955, selling more than three million copies. He has played the role of Doug Williams on Days of Our Lives since 1970 appearing in more than 1,900 episodes.
In the book, Hayes notes that he and a group of DePauw friends "still meets at the same place every summer (Old Mission, Michigan), and we still sing the same songs, from My Evaline to Coney Island Baby. Only now we're just the first generation.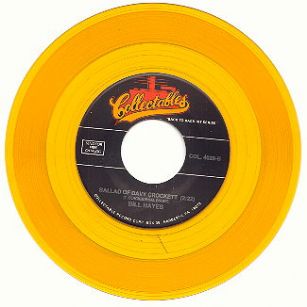 Our children, mostly now in their fifties, comprise the second generation. And their children, in their twenties and thirties, make up the third generation."
Hayes received an Alumni Citation from DePauw in 1978, and in 1997 was the keynote speaker at the Class of 1947's 50th reunion.
The book describes Bill Hayes' lifelong interests in family history and education led him to earn a doctoral degree in 1998 from West Virginia University. His 390-page dissertation was titled, "Family History Study Units in Secondary Schools: Their Educational Impact." In the memoir he states, "As to re-enrolling in school at age sixty-five, I recommend it for everybody. I was introduced to a whole new library of authors. My studies forced me to think, analyze, and express opinions on many new topics. All good for the gray matter."
A synopsis of Like Sands Through the Hourglass states, "They were the first 'super couple' of daytime drama.
Millions watched as actors Susan Seaforth and Bill Hayes, playing Julie and Doug on Days of Our Lives, fell in love on camera and off-igniting the hottest love story on daytime television in the 1970s and early '80s. Now, this witty, entertaining autobiography tells their fascinating story-from television's Golden Age to hit Broadway shows and soap opera stardom." The couple became the first daytime TV stars to appear on the cover of TIME magazine in January 1976.
Read more, and order the book, at Amazon.com and Barnes & Noble.com.
Bill Hayes recently recorded a new compact disc, This is Bill Hayes. More information on the recording and its creator can be found at Hayes' personal Web site.
Back