Bill Hayes '47 Tops US Chart with The Ballad of Davy Crockett
March 26, 1955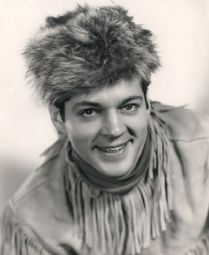 March 26, 1955, Greencastle, Ind. - On this day, 1947 DePauw University graduate Bill Hayes hit #1 on the Billboard magazine chart with his rendition of The Ballad of Davy Crockett. Hayes' version spent consecutive five weeks at the top of the chart, staying at the summit until April 23, 1955. It ranked #7 on the year-end list of 1955's top recordings and wound up selling three million copies.
The Ballad of Davy Crockett, which was the theme of segments that aired within Walt Disney's Sunday night television program, charted a total of 4 times in 1955. Besides Bill Hayes' version, a rendition by Fess Parker (the show's star) went as high as #5, as did Tennessee Ernie Ford's version. The final version, by The Voices of Walter Schumann, topped out at #14.
Learn more about Bill Hayes in this previous story.
Back