Jodi Royer Barnard '86 Joins Qbase as VP & General Manager
July 25, 2006

July 25, 2006, Greencastle, Ind. - Jodi Royer Barnard, a 1986 graduate of DePauw University, has joined Qbase, LLC as vice president & general manager for higher education & nonprofit markets. In her new role with Qbase -- a leading provider of data management, analysis and strategic consulting services -- Barnard will spearhead creating and expanding solutions for the arts, higher education and nonprofit sectors.
With 20 years experience in fundraising, Jodi Barnard began her career in the development office of the Chicago Symphony Orchestra. She also served the New World Symphony, Dayton Philharmonic Orchestra, University of Dayton and most recently the Children's Medical Center of Dayton where she was chief development officer. During her career, Barnard has been responsible for securing over $60 million to meet annual, campaign and future institutional needs.
"Jodi brings to Qbase clients incredibly diverse experience over the past 20 years in leading fundraising initiatives -- in the arts, higher education and health services -- and a keen understanding of changing customer needs," says Bill Pardue,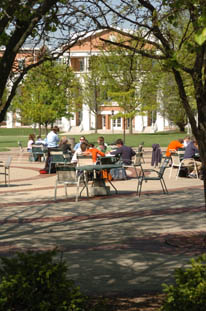 chief executive officer of Qbase.
Barnard states, "I was drawn to Qbase because of its commitment to provide superior data solutions and service to the higher education, nonprofit and performing arts markets. With the growing demand for philanthropic support, the Qbase team -- with their advanced technology and analytic tools -- will transform the fundraising community locally and nationally. I'm honored to be a part of this exciting venture and to be working along side such a dynamic team."
A music and economics major at DePauw, Barnard is also a graduate of Interlochen Arts Academy.
Visit Qbase online by clicking here.
Back