Tom Mont Steps Down as Football Coach
February 1, 1977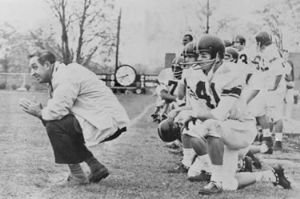 February 1, 1977, Greencastle, Ind. - Tom Mont, DePauw University's head football coach since 1959, today announced his retirement from that position. Mont will now devote his full attention to two other duties he had held at the University since 1971 when he succeeded James Loveless as director of athletics and chair of the department of physical education. The search for a new football coach begins immediately.
"What I feel I will miss the most is the close relationship with the players and coaches," Mont says.

"I have been fortunate through the years to have had on my teams a splendid group of young men and assistant coaches."
Mont came to DePauw after three years as head football coach at the University of Maryland. Mont had eight winning seasons at DePauw, was named conference "Coach of the Year" twice, and compiled a strong 12-5-1 record in the annual Monon Bell game with Wabash College. In 1973, he was inducted into the Maryland Sports Hall of Fame.
The nation's #3 passer as a quarterback at the University of Maryland in 1942, Mont played three seasons with the Washington Redskins as backup quarterback to the legendary Sammy Baugh. He served as an assistant coach with the Redskins in 1950 and a a year later entered college coaching as backfield coach under Jim Tatum at Maryland. Five years later, Mont succeeded Tatum.
Tommy Mont is featured in the "Monon Memory" from the 1971 battle for the Bell. Access the video clip by clicking here.
Back