Plan to Renovate Historic East College Moves Forward
May 22, 1976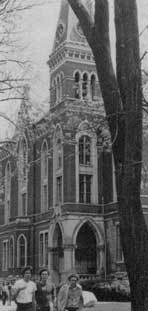 May 22, 1976, Greencastle, Ind. - "I want you to give from your heart, motivated by whatever East College means to you," Ardath Burkhart, a 1927 graduate of DePauw and member of the University's Board of Trustees, said at today's Alumni Convocation. Mrs. Burkhart is leading an effort to raise money to restore and preserve the building which, at age 107, is the University's and the Midwest's oldest educational building still in use.
"For the people who are Alpha Chi Omegas, or Kappa Alpha Thetas, or members of Sigma Delta Chi, it will have a special meaning, because it was in Meharry Hall that the founders of those three groups made their debuts," Burkhart
notes. "It will have extra special meaning to the members of Sigma Delta Chi because they have just recently chosen the DePauw University campus, and East College, as the site of their Indiana Journalism Hall of Fame."
Listed last October on the National Register of Historic Places, East College is considered one of the best examples of the composite American architecture of the late 1880s. DePauw's Board of Trustees has approved a major restoration of the structure. The project, with an estimated cost of more than $1 million, was authorized following a three-year study by a campus committee and architectural counsel.
Learn more about East College in this previous story.
Back