Richard F. Rosser Named DePauw's Seventeenth President
January 22, 1977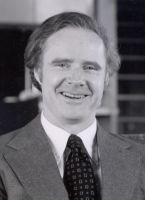 January 22, 1977, Greencastle, Ind. - Richard F. Rosser, dean of the faculty and professor of political science at Michigan's Albion College, was today appointed the seventeenth president of DePauw University. Calling Dr. Rosser "an articulate and creative champion of the liberal arts," Richard D. Wood '48, chairman of DePauw's Board of Trustees, announced that the new president will assume his duties April 1.
Rosser's appointment, which follows a meeting of the Board of Trustees in Indianapolis, concludes a 13-month search by a committee composed of alumni, trustees, faculty members and students. He succeeds William E. Kerstetter, president from 1963 to October, 1975, when he was named chancellor. Robert H. Farber '35 and Thomas W. Binford have been serving as interim acting presidents.
Since leaving the faculty of the Air Force Academy in 1973, Dr. Rosser has been responsible for Albion's academic program, directing the work of 20 academic departments and 120 faculty members. He also has been directly involved there in work with alumni groups, fundraising, admissions, counseling and student development.
A native of Arcanum, Ohio, Richard Rosser was born in 1929. He graduated from Ohio Wesleyan University with Phi Beta Kappa honors in 1951. He then served four years in the U.S. Air Force. In 1961, Rosser earned a Ph.D. in political science from Syracuse University and was assigned to the teaching faculty at the Air Force Academy in Colorado. He was appointed to head the Academy's 34-person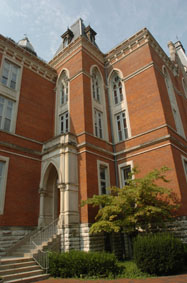 political science department in 1969, and a year later was promoted to the rank of colonel, receiving a presidential appointment as permanent (tenured) professor.
"It is a distinct privilege to be the new president of DePauw," Rosser declares. "This distinguished institution long has been recognized as one of the great liberal arts colleges of the Midwest." He adds, "my whole background drew me back to this kind of institution. I was interested in a private, church-related college because of my own concern for values being treated as an inherent part of the educational process, and the belief that this was done best and perhaps only done at all in such a college."
The new president was introduced at an Indianapolis news conference, then traveled to the DePauw campus where he was greeted by more than 350 students, faculty members and local residents at a welcoming reception.
Back