Indianapolis Monthly's 'Best of the College Towns' Features DePauw & Greencastle
August 2, 2006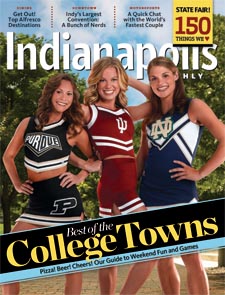 August 2, 2006, Greencastle, Ind. - "DePauw's 2,400 students coexist with Greencastle's 10,000 citizens in a community that combines contemporary art and Victorian antiques, poetry slams and covered-bridge festivals," notes Indianapolis Monthly. The magazine's August 2006 issue lists Greencastle among the "Best of the College Towns." A full-page profile of the community includes photos of East College, the entrance to the DePauw University Nature Park, and an image of diners at the campus eatery, Marvin's.
"The stately East College building hosts special events, including guest lecturers," writes Jessica Dixon, who graduated from DePauw in May. "On sunny days, students head for the trails, woods and turqoise waters in an old limestone quarry at the DePauw University Nature Park, or rent canoes and kayaks to paddle down Big Walnut Creek. And don't leave town without picking up a souvenir in the Union Building's Bookstore."
The text lists the Richard E. Peeler Art Center ("its
three galleries offer works by students and professionals -- and admission is free"), Marvin's garlic cheeseburger, and the Walden Inn as other local attractions.
"Whether you're dropping off kids at school, taking in a football game or just looking for a weekend getaway, Indiana's beautiful college towns make great destinations," notes Indianapolis Monthly's cover story. "Learn where to eat (french fries topped with Velveeta!), where to stay (a quiet B&B that played a role in Indiana's military history) and what to do (wiffle ball, anyone?) while you're in town and hear why far-flung alumni continue to go back to their beloved alma maters."
Visit the magazine's Web site by clicking here.
U.S. News & World Report has ranked DePauw in the nation's top tier of national liberal arts colleges for six consecutive years. Historic East College is pictured on the cover of America's Best Value Colleges: 2007 Edition, which lists DePauw University as one of 150 colleges
offering excellent academics, generous financial aid packages and relatively low costs. Princeton Review's annual publication, The Best 361 Colleges: 2006 Edition, also gives DePauw high marks for its academics and social scene, as does College Prowler's guide to DePauw University. The National Survey of Student Engagement finds that students at DePauw University enjoy significantly more academic challenges, interactions with faculty, collaborations with others and enriching educational experiences than students at peer institutions and the national average at all colleges and universities. DePauw is also among the "Top 50 Most Unwired College Campuses," a survey of all institutions of higher learning -- big and small -- sponsored by Intel Corporation. DePauw is ranked #30 -- the highest of any liberal arts college in America -- in the report.
Source: Indianapolis Monthly
Back