DePauw Enrolls Third-Largest Incoming Class in History
September 9, 1974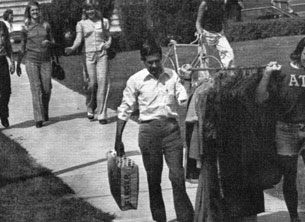 September 9, 1974, Greencastle, Ind. - Although college enrollments are declining across the nation, DePauw University has welcomed the third-largest freshman class in its 137-year history. There are 734 new students (freshman and transfers) on campus this fall, an increase of 32 students over last year. DePauw's largest class was in 1969, when 768 new students enrolled.
The incoming class is consistent with the quality of the students in previous years, says Louis J. Fontaine, director of admission and financial aid. "The median SAT scores continues to place DePauw freshman in the top 20% or better in the nation," he notes.
About 65% percent of the incoming class is receiving some form of financial aid, a six percent increase over last year. In the early 1960s only about 17% of DePauw students received assistance.
Admission personnel visited 1,687 high schools during the 1973-74 academic year, 333 more than the previous year.
Back