Legendary Football Coach "Gaumey" Neal Dies at Age 80
November 25, 1977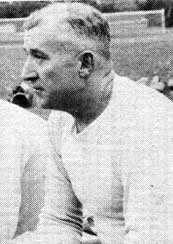 November 25, 1977, Greencastle, Ind. - Raymond R. "Gaumey" Neal, DePauw University's former head football coach and athletic director, died today at Putnam County Hospital. He was 80 years old.
Neal came to DePauw in 1929 as assistant football coach and was head coach from 1930 through the 1945 season. His 1933 team was undefeated, untied and unscored upon. Neal's record at DePauw was 79-34-7.
An alumnus of Wabash College, Neal also attended Washington and Jefferson College and played in the 1922 Rose Bowl against Southern California. He was an all-American tackle and in 1975 was elected to the Indiana Football Hall of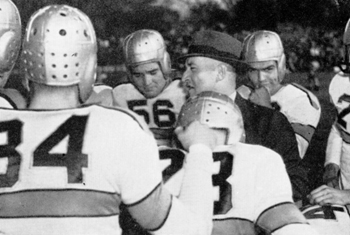 Fame.
"Gaumey was an example of what his players wanted to be," says Beryl Spicer, who played on Neal's legendary 1933 team."While teaching football, Gaumey was stern, yet kind and fair. Even though he was serious and demanding, his players considered Gaumey as their friend and wanted to do the best for him."
Adds Spicer's teammate, Bob Fribley: "Gaumey always concerned himself with the welfare of his players. Many team members will attest to how he helped with their personal needs during those depression years.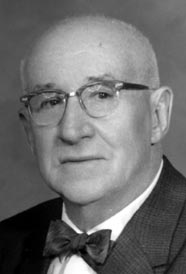 He also understood the problems encountered while maturing as adults during college years. I must credit Gaumey Neal for teaching me how to be cooperative and incorporate a team spirit in my chosen profession as a minister."
"Gaumey Neal was an inspiration to all of us," declares Walter A. Goes, another member of the '33 squad. "He consistently rated teamwork over individual performance. I believe this was the reason that we were motivated to perform well as a group. The absence of friction among his players was probably the result of Gaumey's emphasis on teamwork and fair play."
Memorial gifts may be made to the Raymond Neal Scholarship Fund at DePauw.
Back