DePauw's East College to House Indiana Journalism Hall of Fame
May 10, 1976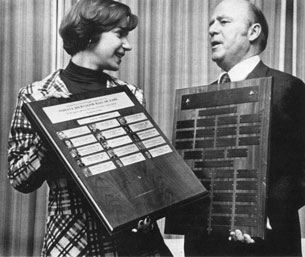 May 10, 1976, Greencastle, Ind. - The Indiana Professional Chapter of the Society of Professional Journalists, Sigma Delta Chi (SPJ/SDX), has selected DePauw University as the permanent home of the Indiana Journalism Hall of Fame. Founded ten years ago, the Hall of Fame will be housed in East College, where Sigma Delta Chi was founded in 1909 by DePauw student journalists. It is now the largest, oldest, and most representative organization for journalists with 30,000 student and professional members.
More than 50 journalists have been inducted into the Indiana Journalism Hall of Fame. Until now, the two Hall of Fame plaques have hung in the Indianapolis Press Club (photo at top shows Wendy Gifford '71, president of the Indiana Professional Chapter of SPJ/SDX, symbolically transferring the plaques to DePauw Chancellor William E. Kerstetter). An advisory committee will be formed to work with the University on long range plans for the Hall's future.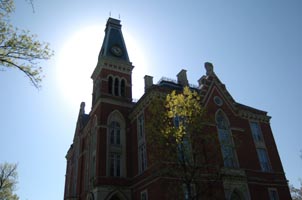 The University is embarking on a major renovation project for the 107-year-old East College, and plans for the Hall will be incorporated in the project. East College has been marked by National SPJ/SDX as an historic site and the building is listed in the U.S. Department of the Interior's National Register of Historic Places.
Visit the Indiana Journalism Hall of Fame online by clicking here.
Back