Historian and Scholar Charles A. Beard '98 Celebrated at His Alma Mater's Old Gold Symposium
October 12, 1974
October 12, 1974, Greencastle, Ind. - Three of the nation's most prominent historians joined DePauw University alumni, faculty members, students and administrators today to commemorate the centennial of the birth of Charles A. Beard, noted historian and 1898 graduate of DePauw. Beard's descendants also joined in the Old Gold Day Symposium, znd heard historian Henry Steele Commager state that Charles Beard "had more influence, not only on history and the teaching of history but possibly on the whole course of public affairs, than any other academic in the first half of the twentieth century."
DePauw President William E. Kerstetter opened the convocation with an appreciation of Beard and of the celebrated historian's wife, Mary Ritter, also a DePauw graduate (1897) and a noted historian who has co-authored books with her husband and published works of her own. Eminent historians who joined Dr.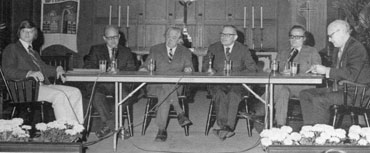 Commager -- who was Charles Beard's successor as professor of history at Columbia University and is currently on the faculty of Amherst College -- were Eugene Genovese, professor and chairman of history at the University of Rochester, and John Braeman, professor of history at the University of Nebraska.
Born November 27, 1874 on a farm near Knightstown, Indiana, Charles Beard graduated from high school at age 17 and started, with his brother, a weekly newspaper, the Knightstown Sun. Four years later, having decided to become a minister, he enrolled at DePauw, where he excelled in campus oratory and journalism and shifted his interests to history and political science. Accelerating his studies, he graduated in three years. (above right: a panel discussion featuring, l-r, DePauw student Charles R. Tilden, Dr. Braeman, Dr. Commager, Dr. John Baughman of DePauw, Dr. Genovese, and Dr. Clifton J. Phillips of DePauw)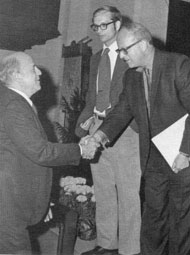 As a senior, Beard served as editor of the student newspaper, the DePauw Palladium, and confirmed his dedication to searching for truth in his last editorial, published in May 1898. "There is but one way to know the truth, and that is not a golden one," he wrote. "It is fraught with toil and sacrifice and perhaps ridicule. The seeker of the truth must be fearless. He must not be afraid to enter the innermost holies of holies, and to tear down the veils of superstition that hang about every human and so-called divine institution. It is the truth that makes men free... And this truth will only be known when men begin to seek the truth in the records of history, politics, and religion and science."
"Throughout his life, Beard's overriding commitment was to the fulfillment of the promise of American life," observed Professor Braeman. "The indispensable prequisite was material abundance for all -- 'a high standard of life for the whole mass of the American people.'" The America Beard envisioned was a land "without the degradation of poverty and unemployment on the one side and the degradation of luxury, rivalry and conspicuous waste on the other... a beautiful country -- homes beautiful; communities and farms beautiful; stores and workshops beautiful...

Sheer utopianism, my masters will say. But without vision, men and women perish, nations perish." (at left: President Kerstetter greets Prof. Braeman; also seen is Dr. Stanley Caine)
Charles Beard graduated from DePauw in 1898, where he also earned his master's degree in 1903. He received his Ph.D. from Columbia in 1904. Beard was the author of some thirty books on American history. He died September 1, 1948 in New Haven, Connecticut.
(This text is a synopsis of an article written by Fred L. Bergmann, professor of English at DePauw, and published in the December 1974 issue of DePauw Alumnus.)
Back