Article by Dennis Trinkle '91 on DePauw's 361° Receives National EDUCAUSE Award
August 2, 2006
August 2, 2006, Greencastle, Ind. - Dennis A. Trinkle, chief information officer at Valparaiso University and 1991 graduate of DePauw University, is the recipient of the EDUCAUSE Quarterly "Contribution of the Year Award." EDUCAUSE is a nonprofit association whose mission is to advance higher education by promoting the intelligent use of information technology. Dr. Trinkle, formerly chief information officer at DePauw, was honored for his November 2005 article, "The 361° Model for Transforming Teaching and Learning with Technology," which describes how DePauw's award-winning technology initiatives have impacted the University.
"One of the fundamental means for transmitting significant experiences and wisdom among colleagues is through publication in a peer-reviewed journal," notes EDUCAUSE. "This award encourages such effort by honoring unusually effective and well-reasoned articulation of professional experience that will be of use to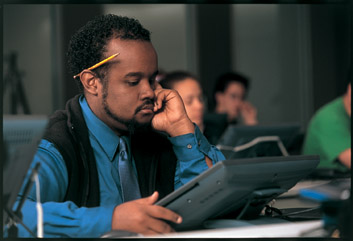 other institutions and individuals."
Award winners are chosen by the EDUCAUSE Quarterly editorial committee. "Focusing technology initiatives on learning while aligning them with the institutional mission and culture can transform teaching and learning," the judges write. "This clearly written and comprehensive article tells the story of DePauw's efforts to become a model for using technology to enhance liberal arts education and enrich the college experience, emphasizing the critical message to 'put learning first.' Ten key factors for success provide the foundation for a thoughtful analysis that is both useful and compelling. Written while the author was at DePauw University, the article reflects the philosophy and efforts that won DePauw the 2003 EDUCAUSE Award for Systemic Progress in Teaching and Learning."
Read more in this previous story, access Dennis Trinkle's article in full here, and visit EDUCAUSE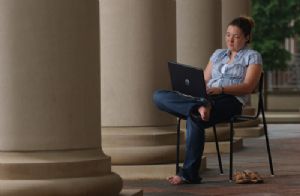 by clicking here. You'll find DePauw's 361° online here.
DePauw is among the "Top 50 Most Unwired College Campuses," according to a survey of all institutions of higher learning -- big and small -- sponsored by Intel Corporation. DePauw is ranked #30 -- the highest of any liberal arts college in America -- in the report, which appeared in the October 17 edition of U.S. News & World Report. More than 1,000 campuses were included; only 50 made the final list. Survey findings are based on the percentage of campus that is covered by wireless technology, the number of undergraduate students and the computer to student ratio for each school.
Back