Indiana Governor Appoints Mike Smith '70 to State Commission for Higher Education
August 2, 2006
August 2, 2006, Greencastle, Ind. - Indiana Governor Mitch Daniels has appointed Michael L. Smith, a 1970 graduate of DePauw University, to a four-year term on the the Indiana Commission for Higher Education. Smith is retired from WellPoint, Inc. (previously Anthem), where he was executive vice president and chief financial officer. Prior to that he served as chairman, president and chief executive officer of Mayflower Group, Inc. Smith has also chaired the Central Indiana Community Foundation.
Word of Mike Smith joining the Commission is one of four new appointments and one reappointment Governor Daniels announced.
"These individuals bring a wealth of experience with both higher education and the communities and economic environment of the state," says Daniels. "Education beyond high school will be almost mandatory to hold a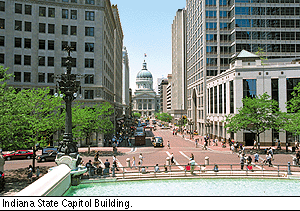 good-paying job in the Indiana of tomorrow. We will look to this board to promote and demand true excellence from our universities in both their academic and economic development missions."
Read the complete announcement , which notes Smith's DePauw degree, at Inside Indiana Business.
Mike Smith, a member of DePauw's Board of Trustees,was elected to the board of directors of Vectren Corporation in February. Details can be found in this previous story.
Back