"Please Don't Forget What's Going On in Gaza," Asks UN Relief Agency's Karen Koning AbuZayd '63
August 5, 2006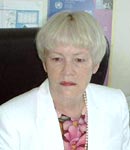 August 5, 2006, Greencastle, Ind. - "Please don't forget what's going on in Gaza because there is no let up in incursions and access problems here," says Karen Koning AbuZayd, commissioner-general of the United Nations Relief and Works Agency (UNRWA) and 1963 graduate of DePauw University. This week, AbuZayd visited a hospital in Gaza City "where the staff is struggling to deal with wounds resulting in an unusually high number of amputations," reports WAFA, the Palestine News Agency. AbuZayd states, "What we saw in Al Shifa Hospital in Gaza on Tuesday was rather horrific."
The UNRWA has been a source of support for Palestinian refugees for the past 56 years. The WAFA story begins, "Although the international press is currently focused on Lebanon, the situation Palestinians face in the Gaza Strip is
precarious as they flee their homes due to Israeli army shelling ... Over 1,500 have fled their homes in the Beit Hanoun area within the past two weeks for Jabalia camp due to the shelling. Four UNRWA schools at the camp are serving as makeshift shelters for those compelled to flee their homes."
Read the complete report by clicking here.
Back