Live Nation's Debbie Dreiband '87 Lines Up Record Fair Sponsorships, Profiled in Newspaper
August 7, 2006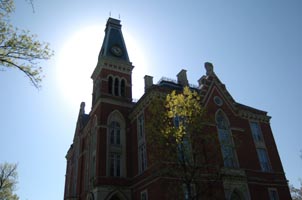 August 7, 2006, Greencastle, Ind. - "The way I've learned to deal with hard clients is to stop and listen to what they have to say, and hearing what they need and what their expectations are," Debbie Dreiband of Live Nation Properties tells the Indianapolis Star. "Take that information when explaining what you can and can't do," continues Dreiband, a 1987 graduate of DePauw University. "Then find an alternative to meet their needs. The first skill you must have is being a good listener and a good problem solver and good sense of humor."
As sponsorship sales director for the Indiana State Fair for Live Nation Properties' Midwest region, Dreiband secures sponsorship deals for the fair. A newspaper profile today notes that Dreiband and her staff have already arranged a record $1.15 million in deals and are still working to procure more before the fair opens Wednesday.
"The fair is just one event for California-based Live Nation," writes Jill Phillips. "It operates or has booking rights for 153 venues worldwide, including the Verizon Wireless Music Center in Noblesville and the Murat
Theatre in Downtown Indianapolis. Dreiband has been working with the State Fair for nine years."
A sidebar to the text notes that Dreiband majored in communication and minored in psychology at DePauw.
Access the complete article, which includes a color photo of the subject, at the newspaper's Web site. Debbie Dreiband is also quoted in a recent Inside Indiana Business article, which you'll find by clicking here.
Back