Richard Lugar Calls On DePauw's 532 Graduates to Go Forward With "A Reverence for Life"
May 21, 1972
May 21, 1972, Greencastle, Ind. - Indianapolis Mayor Richard G. Lugar today urged DePauw University's graduating class to make a long range moral commitment to improving the world, both today and in the future. Citing challenges including population growth and increasing demands for energy, Lugar stated, "It seems to me the question is one in which we need to be very thoughtful, not only about the current situation, but even more so about the future. It means that we have to have a reverence for life in a very real sense -- reverence for the continuation of life in the generations ahead."
An estimated 2,500 people assembled on East College lawn in ideal spring weather for DePauw's 133rd commencement exercises. A total of 532 persons received degrees: there were 438 bachelor of arts degrees, 26 bachelor of music degrees, 13 bachelor of science in nursing degrees, and 55 masters degrees.
Mayor Lugar was granted an honorary Doctor of Laws degree, one of six honorary degrees awarded today (photo at right shows DePauw President William E. Kerstetter presenting Lugar with the honorary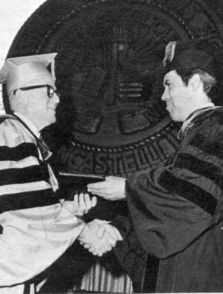 degree). The other recipients were:
Marcus Jay Blaising, superintendent, New Castle District, United Methodist Church; Doctor of Divinity
Rev. Alexander C. Carmichel, senior pastor, Dewitt Community Church, an interdenominational church in Dewitt, New York; Doctor of Divinity
William Lee Springer '31, United States Congressman from the 22nd District of Illinois since 1951; Doctor of Laws
Charles A. Whitmer '28, director of the division of pre-college education in science, National Science Foundation; Doctor of Science
Richard D. Wood, president of Eli Lilly & Co.; Doctor of Laws
Also at commencement, emeritus status was given to Dr. James Loveless, retiring director of athletics, and Franz Bodfors, retiring professor of piano.
Back