Health of Americans "A Corporate Responsibility as Well as a Business Imperative," Steve Sanger '68 Tells US Governors
August 9, 2006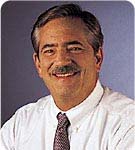 August 9, 2006, Greencastle, Ind. - "It's a corporate responsibility as well as a business imperative for us to address the health of America," Stephen W. Sanger, chairman and CEO of General Mills and 1968 graduate of DePauw University, said at the National Governor's Association's 98th annual meeting. "With a central theme of improving American fitness," conference attendees heard presentations from "Corporate leaders from the firms that bring America such products as Lucky Charms cereal and Pepsi and Coca-Cola soft drinks," reports the State of Columbia, South Carolina. Sanger and the other CEOs "said their companies are part of the solution to the problem of the country's ever-expanding waistline," and that they are "working toward reducing obesity by making their products healthier," writes Wayne Washington.
"Arkansas Gov. Mike Huckabee, the NGA chairman who lost more than 100 pounds after being diagnosed with Type 2 diabetes, has made health and fitness an overriding theme of the conference," which took place in Charleston. "If we don't do something, we're raising the first generation
of children who won't live as long as their parents and grandparents," Huckabee says. "Companies are now starting to realize they need to be part of the solution and not just part of the problem."
Read the complete story at the newspaper's Web site.
The May-June issue of NYSE, the magazine of the New York Stock Exchange, featured Steve Sanger on its cover and examined General Mills' "global recipe" for growth. Learn more in this previous article.
Back