System of Presidential Primaries and Caucuses is Flawed, Prof. Ken Bode Tells Nevada Newspaper
August 9, 2006
August 9, 2006, Greencastle, Ind. - A recommendation before the Democratic National Committee would add Nevada to the list of states holding earlier and caucuses, notes a column by Dennis Myers in Nevada's Pahrump Daily Times. "I called Ken Bode at DePauw University, one of the nation's leading authorities on the delegate selection process used by the Democratic Party in selecting its presidential nominees," Myers writes. He then quotes Bode as saying moving the Nevada primary is "a terrible idea."
A former senior political analyst for CNN, Dr. Bode, Eugene S. Pulliam Distinguished Visiting Professor of Journalism at DePauw, believes that "tinkering with the dates is no reform, it's a way of avoiding reform and avoiding the real problem, which is that all the primaries and caucuses happen too early," writes Myers.
Bode offers, "Look, we at the present time have got a system where the last
time around, it was over after Iowa. Dean was beaten in Iowa, Kerry won Iowa and New Hampshire. There was no contest after that."
The DePauw professor argues that candidates are chosen before most voters are paying any attention to the process and, more importantly, before the issues of the campaign have taken shape. What the system produces is a nominee who is a product of a process, not the true choice of a significant cross-section of a particular party's faithful.
"The important thing about the nominating contest is that 99 percent of Americans are paying no attention at the time the Iowa caucuses happen," Bode tells the newspaper. "It used to be that we had California and Ohio and New Jersey in June, so you really had an opportunity for the voters to look these candidates over, find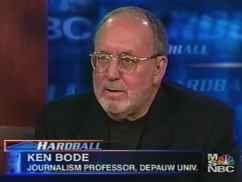 out who's got the staying power, who's got the issues. It gives journalists time to pay more and more attention to the candidates who are emerging as the leaders of the pack as you go forward. And therefore, you have a more intelligent, a more thoughtful outcome to your nominating process."
Access the entire column by clicking here.
Ken Bode writes a weekly op-ed for the Indianapolis Star. His most recent offered a preview of the U.S. Senate primary in Connecticut. Read more in this previous story.
Source: Pahrump (Nev.) Daily Times
Back