DePauw Welcomes a Diverse Group of 639 New Students This Weekend
August 15, 2006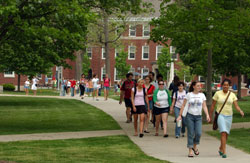 August 15, 2006, Greencastle, Ind. - DePauw will welcome 639 new students this Saturday, August 19, an entering class that is among the most diverse and academically talented in the University's history. Seventeen percent of the incoming students are from multicultural backgrounds, and another 34 students arrive from foreign countries (19 international exchange students and 15 matriculants). All told, the entering class represents 36 states and 33 countries (including the United States).
The 2005-06 admission year smashed records, as 4,171 students applied to DePauw, an increase of more than 600 from the year before. The previous record year, 2003, saw 3,724 applications to the University.
[Download Video: "Dr. Abraham's View" - 902kb] "It was another great
recruiting year," Neal B. Abraham, executive vice president of DePauw, told a gathering of student journalists at a start-of-school news conference in the Memorial Student Union. Dr. Abraham, who is also vice president for academic affairs and dean of the faculty, says he is particularly pleased with the strong interest in the DePauw School of Music. "We had 40 students last year; we have 52 new students this year. The School of Music is going to be in a vigorous place for years to come," he reported.
Stefanie Niles, vice president for admission, discussed how DePauw's efforts to recruit even more international students -- an initiative launched by President Robert G. Bottoms earlier this year as part of his strategic plan for the University -- will intensify in the coming months.
Becky Konowicz has been named senior assistant director of international admission and will lead the effort to recruit foreign students, with trips scheduled to India and Asia this fall.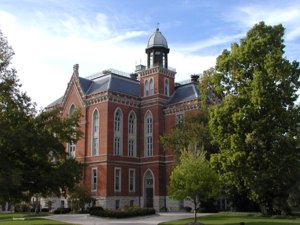 Rich Bonaccorsi, a 1985 graduate of DePauw University whose work has involved recruiting students in China, will also be engaged in the internationalization project going forward. Bonaccorsi and President Bottoms will travel to China in November, Niles announced.
[Download Video: "A New Approach" - 1711kb] "What I would describe as 'armchair recruiting' -- which is what we've done in the past, where from our desks we would recruit students who happened to find their way to us as opposed to actively seeking students out -- we are now entering the market of getting out there internationally, traveling internationally, recruiting students more broadly through a number of means and methods," Niles says.
The incoming class has more international students than any in at least nine years, Dr. Abraham noted, and with 20 returning international students, the total will be 54.
[Download Video: "Moving Forward" - 902kb] "This is a good step along the way, and we haven't yet started to see the payoff from efforts that Dr. Bottoms and
others are taking up... to significantly enhance our recruiting of students from India and China."
The executive vice president reported that almost half (16) of the 40 professors taking sabbaticals during the upcoming academic year will spend substantial time in foreign countries, including Senegal, Mexico, Japan, Europe, China and Thailand. Abraham says 16% of DePauw's current faculty members were born in foreign countries, up 2% from last year. And more students will study abroad than did in the prior year, Abraham announced, underscoring that the DePauw experience is becoming more global across the board.
DePauw welcomes 21 new, full-time faculty members this fall (access a roster by clicking here). The University now has 36 full-time faculty members of color, an increase of four from last year.
Dean Abraham also pointed to a total of 55 student-faculty collaborative research projects over the summer, sixteen of which were supported by external grants.
Projects included examinations of the forest ecology in the DePauw Nature Park, the ethics of U.S. tax policies, and emotional labor in academia. A complete list of the research subjects and their participants can be found here.
A few new campus projects are taking shape as summer winds down. Ground will be broken in the next few days on the Janet Prindle Institute for Ethics in the DePauw University Nature Park.
Meanwhile, work on the Judson and Joyce Green Center for the Performing Arts is, in the words of Dick Speller, vice president for finance and administration at DePauw,
[Download Video: "Green Center Update" - 909kb] "really rolling. It's on schedule and on budget" and should be completed next summer, Speller said. A second phase, involving the southeast side of the building, will follow. Learn more about the project in this previous story. You can see time lapse video of the construction project (updated regularly) by clicking here.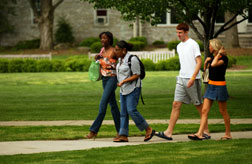 Also, air conditioning was added to Lucy Rowland Hall over the summer and new carpeting was installed.
The new students -- 599 first-year undergraduates, 21 transfers, and 19 international exchanges -- and the returning undergraduates will enjoy a new social option. "The Den" was created over the summer in response to student interest and student-led initiatives. Located in the lower level of Longden Hall, The Den provides a casual, free space for students to play games, relax, or study. It features games (pool tables, shuffleboard, darts, foosball, X-Box), comfortable seating, wireless Internet access, music and a karaoke machine. Ten concerts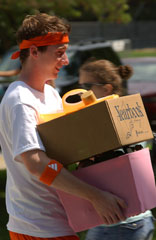 are also scheduled for the coming semester. The space can also be reserved by student groups and residence hall floors for parties and events.
[Download Video: "VP Lincoln on 'The Den'" - 1321kb] "This is wonderful, awesome, I mean, it's going to be the place to be," James L. Lincoln, vice president of student services, told the student reporters. "It's just going to be an amazing place to hang out, to enjoy yourself, to meet friends, for entertainment."
New students begin moving into their residence halls at 8 a.m. Saturday. At 3 p.m., students and parents will hear from President Bottoms in the Opening Convocation, which takes place in the Performing Arts Center's Kresge Auditorium. See a schedule of orientation activities by clicking here.
Back