9/11 Commission's Lee Hamilton '52 Offers 'Inside Story' in New Book, Without Precedent
August 15, 2006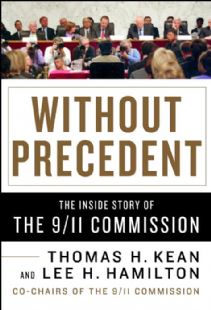 August 15, 2006, Greencastle, Ind. - "The Sept. 11 commission was so frustrated with repeated misstatements by the Pentagon and FAA about their response to the 2001 terror attacks that it considered an investigation into possible deception, the panel's chairmen say in a new book," notes an Associated Press account of Without Precedent: The Inside Story of the 9/11 Commission, which arrives in bookstores today. Authored by Lee H. Hamilton, former congressman and 1952 graduate of DePauw, and his co-chair Thomas Kean, the former governor of New Jersey, the book provides "a behind-the-scenes look at the investigation."
The authors also write that "their panel was too soft in questioning former New York Mayor Rudolph Giuliani -- and that the 20-month investigation may have suffered for it," according to the AP.
Publisher's Weekly opines, "A re-creation of the inner workings of a government commission threatens to be a dry bureaucratic procedural, but the 9/11 Commission was so politically fraught that its story is compelling in its own right. Chairman Kean and vice-chair Hamilton detail the commission's fight with Congress for more money and time; its wranglings with the Bush administration to win access to witnesses and classified documents; its delicate relations with victims' families, who were its harshest critics and staunchest champions; its strategic use of public censure to wring concessions from recalcitrant officials; and the forging of a bipartisan consensus among fractious Republican and Democratic commissioners... The issues the commission wrestled with -- official incapacity to
prevent disaster, the government's use and misuse of intelligence, presidential accountability -- are still in the headlines, which makes this lucid, absorbing account of its work very timely."
Access the AP article here. Learn more about Without Precedent and order the book at Barnes & Noble.com and Amazon.com.
Lee Hamilton (seen at right with DePauw students) and Thomas Kean received the Elliot L. Richardson Prize for Excellence in Public Service May 15. The two men have also been elected2006 Fellows of the American Academy of Arts and Sciences (AAAS) and will be inducted in October.
Hamilton, who served 34 years in the U.S. House of Representatives, will return to his alma mater to participate in DePauw Discourse 2006, October 26-27. Learn more in this previous story.
Back