New Men's Dormitory, Longden Hall, is Dedicated
November 20, 1926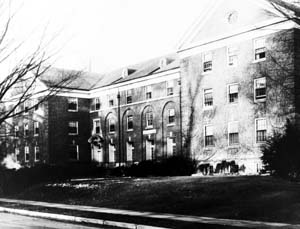 November 20, 1926, Greencastle, Ind. - Approximately 250 students, parents, faculty members and visitors gathered today for ceremonies marking the dedication of DePauw University's new dormitory for men, Longden Hall. The program was held at 11 a.m. on the first floor of the new structure, which was made possible by a gift by DePauw's greatest benefactor, the late Edward Rector.
On hand for this morning's event -- which was part of Dad's Day festivities -- were Mr. Rector's widow, DePauw President Lemuel H. Murlin, and the building's namesake, Dr. Henry Boyer Longden.
"About four years ago, during our endowment campaign, Mr. Edward Rector delivered an address in Indianapolis to friends of DePauw University," recalled Roy O. West '90, chairman of DePauw's Board of Trustees. "Referring to his benefactors to our old college, he said, 'They are investments in humanity, in the men and women who are to carry on the work of our country, when you and I are gone.' The gifts of Mr. Rector aggregate a total greater than ever has been given for education in Indiana or to any other Methodist college of liberal arts by a single individual."
Dr. West's remarks continued, "We have received so bountifully as to be reminded that 'from him to whom much is given, much is expected.'" He also noted that Rector Scholars hold "positions of influence and power in commerce, in the professions. They are members of colleges and universities. On our own faculty, you observe that Rector Scholars have important representation and that they perform their responsible duties with credit. We find that our undergraduate Rector Scholars have acquitted themselves with distinction not only in their classes, but in athletics and campus activities generally. Dr. Longden informs me that every man elected last year to Phi Beta Kappa was a Rector Scholar."
In his speech, Dr. Londgen recalled that when Edward Rector first became acquainted with DePauw he found the housing facilities inadequate, and that his first act was the building of Rector Hall, a women's dormitory. He also donated funds for the improvements to Mansfield Hall to enhance housing options for young women at DePauw.
Back