Theologian and Author John Haught to Discuss 'Evolution and Faith' in September 19 Mendenhall Lecture
August 26, 2006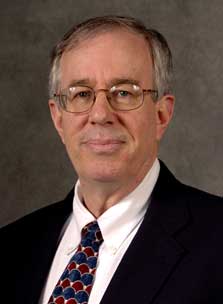 August 26, 2006, Greencastle, Ind. - John F. Haught, author of the book, Is Nature Enough? Meaning and Truth in the Age of Science, will deliver the Mendenhall Lecture at DePauw University on Tuesday, September 19. Dr. Haught will discuss "Evolution and Faith: What is at Stake?" at 7:30 p.m. in Gobin Memorial United Methodist Church. The program is free and open to all.
Haught is Distinguished Research Professor of Theology at Georgetown University. His area of specialization is systematic theology, with a particular interest in issues pertaining to science, cosmology, evolution, ecology, and religion. The author of more than a dozen books, Haught was the 2002 winner of the Owen Garrigan Award in Science and Religion, and in 2004 received the Sophia Award for Theological Excellence.
"Haught, director of the Georgetown Center for the Study of Science and Religion, makes a solid and sometimes elegant case that an evolutionary universe can still manifest divine purpose and promise," wrote Publisher's Weekly in a review of Professor Haught's Deeper Than Darwin: The Prospect For Religion In the Age Of Evolution. It continues, "The basic idea of 'evolutionary theism' is nothing new ... But this book invigorates the debate by interacting with more recent literature while introducing some fresh lines of argument."
John Haught's other books include: He is the author of the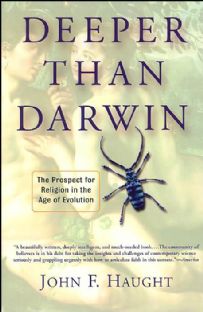 books Purpose, Evolution and the Meaning of Life; God After Darwin: A Theology of Evolution; Science and Religion: From Conflict to Conversation; The Promise of Nature: Ecology and Cosmic Purpose; The Cosmic Adventure: Science, Religion and the Quest for Purpose; and the forthcoming Science and Christian Faith.
The Mendenhall Lectures, which were inaugurated in 1913, were endowed by the Reverend Doctor Marmaduke H. Mendenhall. His desire was to enable the University to bring to campus "persons of high and wide repute, of broad and varied scholarship" to address issues related to the academic dialogue concerning Christianity. Although Mendenhall was a pastor in the North Indiana Annual Conference of what was then called the Methodist Episcopal Church, one of the parents of the United Methodist Church, he explicity dictated that lectures be selected without regard to denominational divisions. The endowment has allowed DePauw to bring theological and religious scholars of international repute to campus for nearly a century.
Back