'Coming Together 2006' Set for September 22-24
August 17, 2006
August 17, 2006, Greencastle, Ind. - Alumni of color of DePauw University are invited to return to campus for Coming Together 2006, which will take place September 22-24. Coming Together is a bold, energetic alumni initiative designed to reconnect DePauw alumni of color to the University and to connect and unite alumni with students.
A variety of events are planned for Coming Together attendees. A series of panel discussions, entitled "Ripped From the Headlines," will examine issues of the day, including the response to Hurricane Katrina, religion in the 21st Century, and today's privacy issues.
There will also be other programs and campus tours. Llew Smith,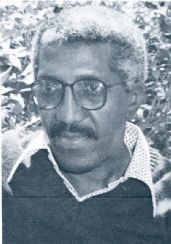 co-producer of the upcoming NOVA documentary on legendary chemist and 1920 DePauw graduate Percy Julian, will provide a screening of the upcoming two-hour PBS program. A Saturday dinner will feature remarks by Stanley Warren (seen at right), former vice president for academic affairs at DePauw. Comedian Damon Williams will entertain at Walden Inn's Fluttering Duck. The weekend will conclude with a Sunday brunch with a performance by the DePauw Gospel Choir.
"Coming Together provides an opportunity to share in the fullness of your DePauw experience -- your life as a student and life after DePauw as an alumnus," says Lisa Henderson-Bennett `93, who is co-chairing the event. "In our time together we experience how DePauw has changed and how much things are just as we remember. By coming together we are all actively engaged in the ongoing life of the University."
Adds 1985 graduate and co-chair Marvin Flewellen, "The Coming Together event has been a great opportunity to see some old friends and to meet new ones who traveled through the DePauw experience.
However, the event has also been a great way for alumni of color to encourage and to be a presence for the current students of color on campus, by building a bridge between Greencastle and the real world thereafter."
Flewellen, a member of DePauw's Board of Trustees, adds, "DePauw alumni of color have achieved great heights in their various life works over the years. With 20-plus years beyond graduation, I can honestly say that some of the sharpest people I know have the DePauw degree. We all benefit when we collectively demonstrate a presence on campus, and the current students of all backgrounds are the better. Can I count on you? Make a point to attend this year's event in September."
Registration is $100 until September 1, and $125 after that date. More information, including complete registration options, is available by clicking on this online form.
Back