Los Angeles Times Cites Prof. Ken Bode in Story on Presidential Primary Shifts
August 18, 2006
August 18, 2006, Greencastle, Ind. - "Barring a last-minute shift, Democratic leaders meeting here are expected to add Nevada and South Carolina to the states that hold early primaries, alongside perennials Iowa and New Hampshire," writes Mark Z. Barabak in today's Los Angeles Times. He reports on the Democratic National Committee's summer meeting in Chicago and includes a quote from DePauw University's Eugene S. Pulliam Distinguished Visiting Professor of Journalism.
Barabak notes that the proposal to hold earlier caucuses "has produced more than a few knocks on Nevada and the louche life associated with Las Vegas. 'It is said that the Democratic Party has a moral values problem,' Ken Bode, a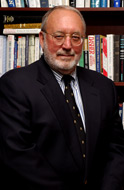 veteran political analyst now teaching at DePauw University in Indiana, wrote in a recent Indianapolis Star commentary. 'Adding images of flying dice and spinning slot machines with the surrounding sex industry isn't likely to help.'"
Of the proposed shifts, the Times article states, "It would be the most significant change in the presidential nominating process in years, and hasten the front-loading that has already transformed the contest from a months-long slog into a sprint lasting just a few weeks."
Read the complete article at the newspaper's Web site. Access the Ken Bode op-ed referenced in the piece by clicking here.
Source: Los Angeles Times
Back