Tom Mont Named Athletic Director
December 23, 1971
December 23, 1971, Greencastle, Ind. - Thomas A. Mont is DePauw University's new athletic director and chair of the physical education department. The appointment of Mont -- who will continue to serve as DePauw's head football coach and carry the rank of associate professor in his department -- was announced today by University President William E. Kerstetter.
Mont succeeds James Loveless '29, who is retiring at the end of the academic year after "18 years of outstanding service to intercollegiate athletics and physical education at DePauw and the nation."
Dr. Kerstetter added, "I feel that we are fortunate at DePauw in having a man of exceptional experience and talent to come into this important position. I am confident that Tom Mont will do a strikingly effective job."
Tommy Mont came to DePauw as head football coach in 1959 after three years in a similar post at the University of Maryland. He was named "1967 Coach of the Year" in the Indiana Collegiate Conference.
The coach was an outstanding quarterback at the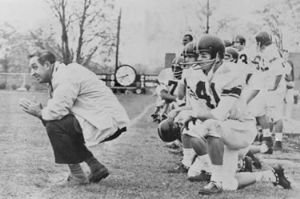 University of Maryland in the 1940s and played three seasons of professional football with the Washington Redskins. In 1950 he became backfield coach for the Redskins and a year later entered college coaching as backfield assistant at Maryland. Five years later, he took over as the program's head coach.
Tom Mont earned his bachelors degree from Maryland in 1947 after having his college career interrupted for almost four years by World War II. He received an M.S. degree from Indiana University in 1964.
Back