Los Angeles Times Previews Art Exhibition That Will Come to DePauw in 2008
August 20, 2006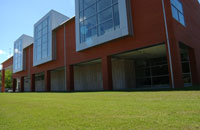 August 20, 2006, Greencastle, Ind. - An article in today's Los Angeles Times previews "Chikanobu: Modernity and Nostalgia in Japanese Prints," an art exhibition that opens Saturday at Scripps College in Claremont, California, the first stop on a tour that includes DePauw. "Funded by the Mellon, Blakemore and Japan foundations and the Metropolitan Center for Far Eastern Art Studies in Kyoto, Japan, the show will travel to Carleton College in Northfield, Minn.; Vassar College in Poughkeepsie, N.Y.; DePauw University in Greencastle, Ind.; Denison University in Granville, Ohio; Boston University; and the International Christian University in Tokyo," writes Suzanne Muchnic.
"The exhibition surveys the work of Yoshu Chikanobu [1838-1912], a real samurai who became an immensely popular and prolific woodblock print designer in Meiji Japan. His prints -- created as advertisements for theatrical productions, illustrations for newspapers and educational books, and entertainment for the leisure class -- document a society in transition."
Read the complete story at the newspaper's "Calendar Live" site.
Watch this space for upcoming details on the Chikanobu exhibition's Spring 2008 stop at DePauw.
Source: Los Angeles Times
Back