Parade Magazine Spotlights Operation Life and DePauw's 'Relevant Education'
August 31, 1975
August 31, 1975, Greencastle, Ind. - "DePauw University, in Greencastle, Indiana, is teaching students to man an ambulance," writes Pamela Swift in today's edition of Parade magazine. "The course is part of a life-saving program in which a rural Indiana county -- previously without medical service -- now boasts an ambulance equipped with sophisticated medical gear and available 24 hours a day."
Swift's "Keeping Up... With Youth" column is headlined "Relevant Education."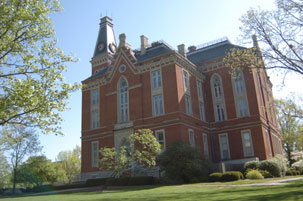 She continues, "Over the past 18 months, the students' ambulance service, Operation Life, has aided more than 500 persons. One recent case involved saving the life of a 13-year-old boy whose skull was fractured when a tractor overturned on him ... The good works of the ambulance corps have helped narrow the traditional town-gown gap," she adds.
The column concludes, "The ambulance is the idea of two students, Ray Hill and Doug Crichlow, who started the service and talked the town into supporting it. When the need was established the University set up the course for emergency medical technicians -- and more students signed up for it than the course could handle. That's 'relevant' education."
Source: Parade
Back