Prof. Barbara Whitehead Contributes to Book on Emilie Du Châtelet
August 21, 2006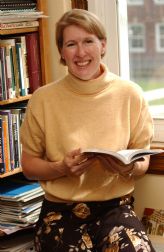 August 21, 2006, Greencastle, Ind. - Barbara J. Whitehead, professor of history at DePauw University, contributes a chapter to Emilie Du Châtelet: Rewriting Enlightenment Philosophy and Science. The book, edited by Judith P. Zinsser and Julie Candler Hayes, has been published by the Voltaire Foundation at the University of Oxford. Dr. Whitehead's chapter is entitled, "The Singularity of Mme Du Châtelet: An Analysis of the Discours sur le bonheur."
A collection of papers, the book has been published to celebrate the 300th anniversary of Emilie Du Châtelet's birth. Du Châtelet was one of the leading female scientists of the eighteenth century, best known for introducing Isaac Newton to France in her translation and commentary of the Principia. Du Châtelet's translation was the only French translation of this work until the 1960s. As the companion of Voltaire, she also participated in the major philosophical debates of the eighteenth century, including debates on religion, language, and the nature of the good life.
"Mme Du Châtelet's Discours sur le bonheur makes a unique contribution to the eighteenth-century debate on happiness," notes an abstract for Professor Whitehead's chapter. "By openly drawing upon her own life experiences as the basis for her beliefs, Du Châtelet democratizes the debate by asserting that happiness is not a universal but is instead dependent upon one's age, sex and material conditions;
it differs for each individual. Although a comparison of her essay to the writings of Voltaire, Helvétius and La Mettrie reveals a closer relationship with La Mettrie than previously thought, her emphasis on the necessity of passion for the happy life marks hers as an original voice."
Visit the Voltaire Foundation online by clicking here.
Barbara Whitehead is a recipient of a Distinguished Professor Award for 2006-08. Read more in this previous story.
Back