US Supreme Court Justice Harry Blackmun Offers 13 "Hopes" for the Nation and DePauw's New Graduates
May 22, 1971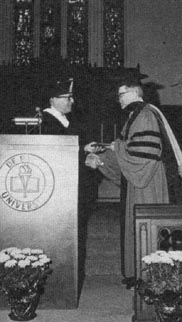 May 22, 1971, Greencastle, Ind. - "Today is seen as a bad time, but I feel it is not the worst of times," Harry A. Blackmun, associate justice of the United States Supreme Court, said at a special Commencement-Alumni Convocation at DePauw University today.
Justice Blackmun -- whose daughter, Susan Blackmun Karl, and her husband, Roger, are to graduate from DePauw tomorrow -- was given an honorary Doctor of Laws degree at today's event, held in Gobin Church. Blackmun cannot be present for tomorrow's commencement. (top photo: DePauw President William E. Kerstetter presents Justice Blackmun with his honorary degree)
"There have been few generations in this country without concern," the justice continued. "What I dislike most about today is the emphasis on self and the calling always of relevance and being content with that. Relevance usually is superficial, for today's relevance is not tomorrow's needs."
In his address, Justice Blackmun also expressed thirteen hopes for America:
"That we tighten our belts and not be disheartened. The nation has survived wars before. I cannot say that we are better because of those wars, but we have survived. We have survived economic adversity and economic brigandage and exploitation. And, as to the latter, I think we have emerged the better because we have survived."
"That we avoid the easy way and deny the cult of cynicism... It is so much easier to write a biting dissent than a constructive majority opinion. Mr. Justice Holmes -- whom everyone reveres, of course -- was known as the great dissenter, and yet those dissenting opinions, except for their provocativeness, do not form a very helpful situation for today's problems."
"That we be content with a steady pull, and not seek to lead on the basis of what happens to be popular today."
"That we ever seek wisdom and judgment."
"That we do not fear periods of aloneness. I say that rather than loneliness, and that we not be surprised by their presence. This is when, I think, the human engine gets charged and its thinking resolved. This is when we mature."
"That we accept disappointment and interim defeat. For every victor, there is at least one and maybe many who are defeated; this is the essence of democracy."
"That we develop and adhere to a semblance of idealism or faith or hope or religion or call it what you will. We should not fear to try to excel. It seems to me that there has been too much recently of contentment of the mediocrity of the mass. Each one of us and each one of the members of the Class of '71 has talent -- some more, perhaps, some less. But I hope they will find it and use it."
"That we think more and emote less... I wonder sometimes how much thinking we critics are really doing? How do we tackle the cause and avoid coming up with something worse? What would each of us do if he had the primary responsibility to unravel the problem?"
"That we cease calling always for the relevant, so popular today, and being content with that... We should seek the truth, and of course, absolute truth is never attainable, but one may seek and by seeking attain for others."
"That we give some heed to self-restraint. I know strong wrongs need strong remedies, but I think we should act when we know we are right."
"That we strive for independence and give independence its true meaning. What is that meaning? I am quoting now, 'It means my right to make a place for myself in human society, but it doesn't mean that society is somehow obliged to make a place for me. It means that I shall face the consequences of my own folly an not that some town or state or nation shall shield me from them. Independence means obligations as well as rights -- the right to earn and the obligation to save. The right to worship as I please and the obligation to abide by these beliefs. The right to justice and the obligation to recognize right. The right to hope, to dream, to plan, and the obligation to serve.'"
"Twelfth, I refer to a thought the Chief Justice offered earlier this week before the American Law Institute in a talk he called, 'The Necessity of Civility.' How much we need that today in every walk of life; on the campus, in the courtroom, in our daily demeanor."
"Thirteenth, that we foresake the mob. It was no one other than Mr. Lincoln who said, 'there is no grievance that is a fit object of redress by mob law.'"
In closing, Justice Blackmun stated, "As we change, which we must, I hope we can leave some of the trees standing. And this, I suspect, is what this University and its faculty and the student body of years past have exemplified and stood for: examination of basics, picking and choosing those that are sound and going on to establish others. These days are not easy, but I doubt if any one of us -- any of us -- would really want to miss them." (photo above right: Susan Blackmun Karl and her father)
Back