Mark Vittert '69 Dreams Big, and Succeeds
March 8, 1971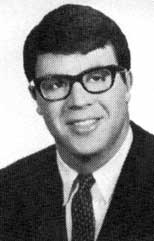 March 8, 1971, Greencastle, Ind. - Mark B. Vittert graduated from DePauw in 1969 with plans to make a big dream reality in a short period of time. Today's edition of TIME magazine reports that he succeeded. "I wanted to be the youngest person in American history to have founded a company and to have sold it for more than a million dollars," TIME quotes Vittert, who sold the company he founded for $1.5 million just 22 months after graduating from DePauw.
Vittert, a speech major, founded College Marketing and Research Corp. in 1969 with financial help from John Burkhart '28, chairman of the board of College Life Insurance Company. Burkhart was named board chairman of the fledgling company; Dennis Barrett '67 is a vice president;
Gerald Warren, chair of DePauw's economics department, is on the board.
College Marketing built a force of 700 representatives on college campuses to help companies expose their products to students. The company was sold to Playboy magnate Hugh Hefner, and the 22-year-old Vittert remains as president of the corporation.
The TIME article is accessible by clicking here.
Back