Dana Hayes Jr. '86 Named Sr. VP/Sales at Tribune Interactive
August 23, 2006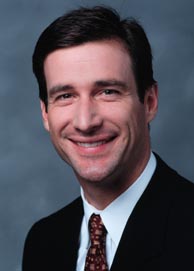 August 23, 2006, Greencastle, Ind. - Dana C. Hayes Jr., a 1986 graduate of DePauw University, has been appointed senior vice president/sales at Tribune Interactive (TI), a division of Tribune Company (NYSE: TRB). Hayes was previously senior vice president/sales and marketing for Tribune Media Net. He assumes his new duties September 1.
"Topline sales growth at TI has outpaced the industry, and with Dana aboard we look forward to accelerating that trend," says Tim Landon, Tribune Interactive president. "Dana's experience managing diverse sales forces and multi-channel products makes him an outstanding addition to our management team."
In this newly-created position, Hayes will lead strategic coordination of TI national and local sales and sales strategy. In addition, he will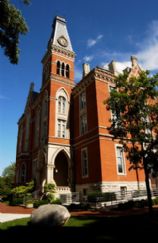 have a lead role in developing new interactive advertising products available on TI's network of more than 50 Web sites.
"This is an important time for Tribune Interactive, with enormous opportunity to grow our advertiser relationships at the national and local levels," states Hayes. "I am eager to further develop our sales strategy and continue our tradition of delivering innovative and effective products to our advertisers."
TI's award-winning sites provide an ideal environment in which leading marketers reach consumers, on both a nationwide basis and at a targeted local level. Tribune Interactive manages the interactive operations of major daily newspapers such as the Los Angeles Times, Chicago Tribune, Newsday and their associated Web sites. National network sites owned with partners include CareerBuilder.com, Cars.com, Apartments.com, ShopLocal.com and Topix.net. TI ranks among the nation's leading news and information networks with sites that attract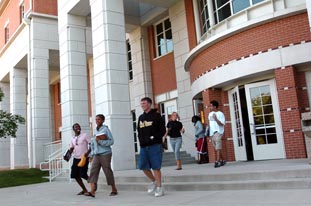 more than 14 million unique visitors per month.
A communication major at DePauw, Dana Hayes joined Tribune Company in 1999. Previously, he held a variety of sales management positions for Turner Networks, TBS and TNT, and at Landmark Networks' Weather Channel and Travel Channel. He began his career as a media buyer and planner at Leo Burnett Company. An announcement at Yahoo! Finance notes, "A Chicago native, Hayes holds an undergraduate degree from DePauw University and an M.B.A. from the University of Chicago Graduate School of Business."
Read the complete text by clicking here.
Back