Roger Wilkins and David Keene to Preview Mid-Term Elections in October 23 Crain Lecture
October 2, 2006
October 2, 2006, Greencastle, Ind. - Two national figures from either side of the political aisle -- David Keene and Roger Wilkins -- will come to the DePauw University campus to discuss the mid-term elections on Monday, October 23. Keene, chair of the American Conservative Union; and Wilkins, a noted civil rights leader, professor of history, and Pulitzer Prize-winning journalist, will present a Gertrude and G.D. Crain Jr. Lecture. Beginning at 4:15 p.m. at the Pulliam Center for Contemporary Media's Watson Forum, the event is free and open to all.
David Keene is making his fourth visit as a Crain Lecturer. On April 5, he deliberated the question "Can the Republican Party Survive George W. Bush?," which Wilkins provided a Democratic counterpoint to twelve days later.
Keene's American Conservative Union is the nation's oldest and largest grassroots conservative organization. He also serves as a lobbyist with the Carmen Group, a governmental affairs and legislative relations firm based in Washington, D.C. David Keene has been involved in presidential politics since 1968. He worked in the White House during the Nixon administration as political assistant to Vice President Spiro Agnew and on Capitol Hill as executive assistant to Senator James L. Buckley. As southern regional coordinator for Ronald Reagan in 1976 and national political director for George Bush in 1980, Keene won recognition for his skill as a political organizer and strategist. He also served as a senior political consultant to Republican presidential candidate Robert Dole in 1988 and was an informal advisor during the 1996 campaign. Keene has been a John F. Kennedy Fellow at Harvard University and was a visiting professional scholar at the Freedom Forum First Amendment Center at Vanderbilt University.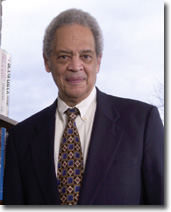 Roger Wilkins has made numerous visits to DePauw in recent years, and this marks his second Crain Lecture appearance. He served as an assistant attorney general in President Lyndon B. Johnson's administration, and later joined the editorial staff of the Washington Post, where, along with Carl Bernstein, Herbert Block, and Bob Woodward, he earned a Pulitzer Prize in 1972 for exposing the Watergate scandal. Wilkins, Clarence J. Robinson Professor of History and American Culture at George Mason University in Fairfax, Virginia, also wrote for the New York Times and Washington Star, and for more than a quarter century has provided commentaries for National Public Radio. His book, Jefferson's Pillow: The Founding Fathers and the Dilemma of Black Patriotism, won the 2002 NAIBA Book Award for Adult Non-Fiction.
Endowed by Rance Crain, president of Crain Communications and a member of DePauw's Class of 1960, The Gertrude and G.D. Crain Jr. Lecture Series honors Mr.
Crain's parents.
Previous Crain Lecturers have included: Wall Street Journal reporter and 1996 DePauw University graduate Aaron Lucchetti, who discussed his experiences covering Hurricane Katrina; award-winning reporter Jerry Mitchell and civil rights activist Rita Bender, the widow of slain civil rights worker Michael Schwerner; Samantha Power, author of A Problem from Hell: America and the Age of Genocide; Emily Wax, Africa Bureau Chief of the Washington Post, and her husband, Raymond Thibodeaux, who also covers the region for Cox News, Voice of America and the Boston Globe; political analyst Charlie Cook; military sociologist Charles Moskos; historian Douglas Brinkley (pictured at right), author of Tour of Duty: John Kerry and the Vietnam War; and Joe Trippi, who managed Howard Dean's presidential campaign.
Back